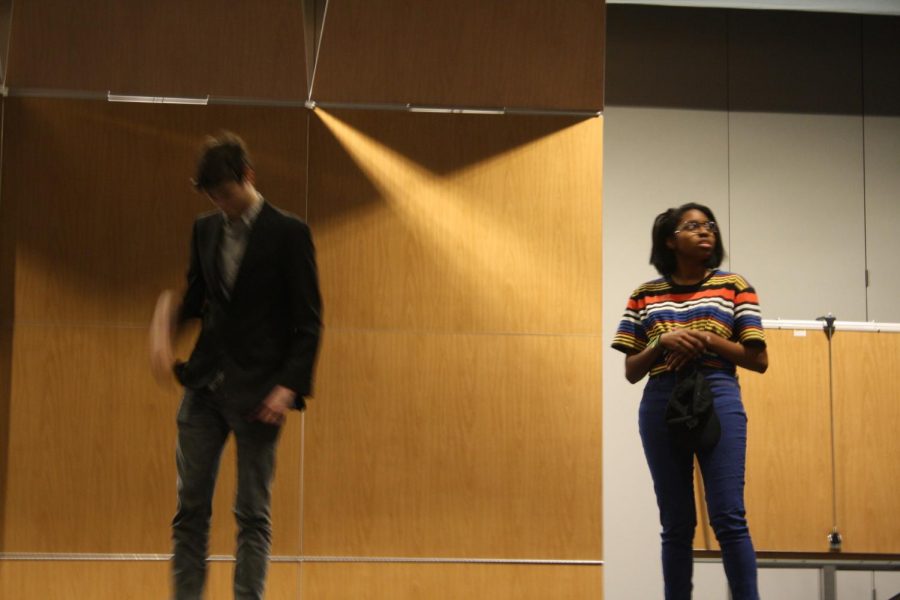 Senior Jonah Herrmann will perform as one of the two Gatsbys along with Eduardo Alvarez in the upcoming LN double-casted theater play, "The Great Gatsby." The play, organized by theater teacher Kameron McBride and choir director Elizabeth Warner, will take place Feb. 28 and 29 at 7 p.m. in the LN auditorium.
"McBride came up to me last year and asked me if I wanted to be in 'Gatsby,' and I said yes. I read it this year in class and thought it was really fun," Herrman said.
Herrmann has been a part of two LN productions, "The Great Gatsby" along with last year's musical performance, "Bye Bye Birdie," which gave him a further interest in theater. In both, he was cast as the lead actor.
"I did elementary school plays and stuff, and I haven't really done anything since until last year when I was in the musical "Bye Bye Birdie," That just kind of spiked my interest in high school theater," Herrmann said.
Herrman found out about the play approximately a month before rehearsals were held. As the lead, he is responsible for memorizing many lines before he can perform.
"I try to read through the script and practice my lines off script so it is as if it were I was saying them, like the lines are coming from my own thoughts," Herrmann said.
The original Gatsby character is portrayed as a very sophisticated wealthy man. It is expected that there would be a lot of pressure to fulfill this well-known role.
"When I'm nervous, I usually breath in for four counts and breath out for eight counts, and then I'll increase it, breath in for eight counts breath out for 16, or something like that. I try and tell myself that I've done this all my life so I can do it now," Herrmann said.
Although the role of Gatsby holds a lot of responsibility, there are others in the play who also have big shoes to fill.
"I usually try to memorize my lines as best as I can just by reading them out loud. Sometimes I'll record myself reciting my lines and then just listen back and see what I can do to sound more authentic," junior Olivia Atkinson said.
Atkinson plays one of the two Daisy characters in the double cast play and has been doing theater for three years.
"I've been doing theater since my freshman year, and I always really loved it and enjoyed it. I always love being in performances, so I just knew I was going to audition for it," Atkinson said.
In many English classes, "The Great Gatsby" is a required reading, making many people familiar with the story.
"We read the story in English class, which helped me get a little bit of backstory with the characters. I read through the script a lot and tried to understand what Daisy's interactions and motives are to understand the character better," Atkinson said.
Since Atkinson read the story previously, she is really able to make the character her own. She is also able to interact with the other characters on a different level.
"Because it's a double cast show it's been interesting seeing other people's interpretations of different characters, and it's given me a lot more understanding and depth of my character," Atkinson said.
Theater has taught Atkinson how to be an actress and has given her exposure to her character. Along with gaining skills on being an actress, it is also taught her important life skills.
"I'm definitely a lot more social than I was when I wasn't in theater and because of theater I have met a lot more people. I'm not as afraid to talk in crowds," Atkinson said.In comparison to plays in the past, because the story is so well-known, there is a different level of expectation for this one.
"I taught the book in English 11 honors the last couple of years, so it was really chosen to tie in to what students are reading in the classroom so they get a chance to see it on the stage, and it's a little more meaningful and engaging. I think it's a really relevant book to look at. Its themes and what the story is trying to discuss makes sense for today. It's a great story to enjoy in a different kind of way," theater teacher Kameron McBride said.
McBride is an English teacher which has given him great familiarity with the book. He is able to tie together his knowledge with the book and his experience in acting to teach theater.
"I acted in high school and was around the theater program in college. I had some contacts there and when the position became available I just applied and ended up getting the position." McBride said.
With having experience in theater, McBride understands the level of intensity the theater program can have and the level of seriousness it takes.
"We had a really competitive audition. We had 75 kids audition for this. We had them prepare monologues for the characters before they came, and we, we being myself and Ms. Warner, had them cold read or improv other parts that they were interested in, then we had a call back to trim down our list to the final candidates," McBride said.
This year's group of auditioners for the play was a large one. Out of everyone who auditioned, the ones who got chosen, had something that stood out to the rest, and that McBride believed would fit the roles the best.
"Being brave makes an actor stand out. Willing to make choices and take risks to really make the character their own," McBride said.
All in all, whether the lead character, a part of the behind the stage crew or simply an audience member, everyone has something they can gain from theater.
Theater is a really great opportunity for everyone, even if you don't like acting you can help with the sets or tech. It's also a great way to get connections with people and a great group of people to be around," Atkinson said.
Theater truly has something for everyone.
"Theater is an amazing program. Once you join and be a part of it, the more you don't want to leave. The more people that are in it the more participation and then it will keep growing." Herrmann said.