Staff members take on Sports Legendary Experience at the Children's Museum of Indianapolis
For the April North Star Issue, editors Keelen Barlow and Jared Rigdon took a visit to the Sports Legends Experience at the Children's Museum of Indianapolis. Read below for more information on the exhibit and their first-hand experience that day.
In early March, the Children's Museum of Indianapolis, the world's largest of it's kind, unveiled a new attraction that has kids flocking to the Circle City from all over the state. The Children's Museum and Riley Hospital for Children have joined forces to open an outdoor park dubbed the Riley Children's Health Sports Legends Experience.
The Sports Legend Experience was designed to promote healthy living and exercise activity for children in the State of Indiana. The outdoor experience also features a connection to the deep sports history of Indiana and includes exhibits with the Colts, Fuel and Pacers.
On the inside, the Sports Legend Experience dives into a variety of history in Indiana Sports. From small Milan's historic run to the 1954 IHSAA State Championship game over powerhouse Muncie Central or Purdue Women's Basketball unexpected win over Tennessee in 1998 to snap the Vols' 46 game winning streak, the indoor historic version of the exhibit captures the moments and players that represent Indiana Sports History.
The outdoor section of the Sports Legend Experience has everything including basketball courts, with rims for all sizes, soccer fields, a hockey "rink" and golf courses modeled to represent some of the toughest courses from around the country.
While it was designed for youth, this experience has transformed into one for all ages. Teenagers and parents have the chance to rekindle their youth and burn off energy and stress from work and school.
This exhibit only adds on to the magnitude that is the Children's Museum and will continue to garner the attention from people around the state and around the country. This exhibit is one of a kind and truly brings together two important aspects that affect Indiana.
North Star Editors Keelen Barlow and Jared Rigdon had the chance to spend a day at the Sports Legends Experience where they participated in basketball, soccer and hockey and experienced everything the exhibit had to offer.
Both reflect on the day they spent downtown and look at why this experience is truly fun for everyone and will continue to provide kids and adults a fun time to try new things and be active to put them in the best shape for their future.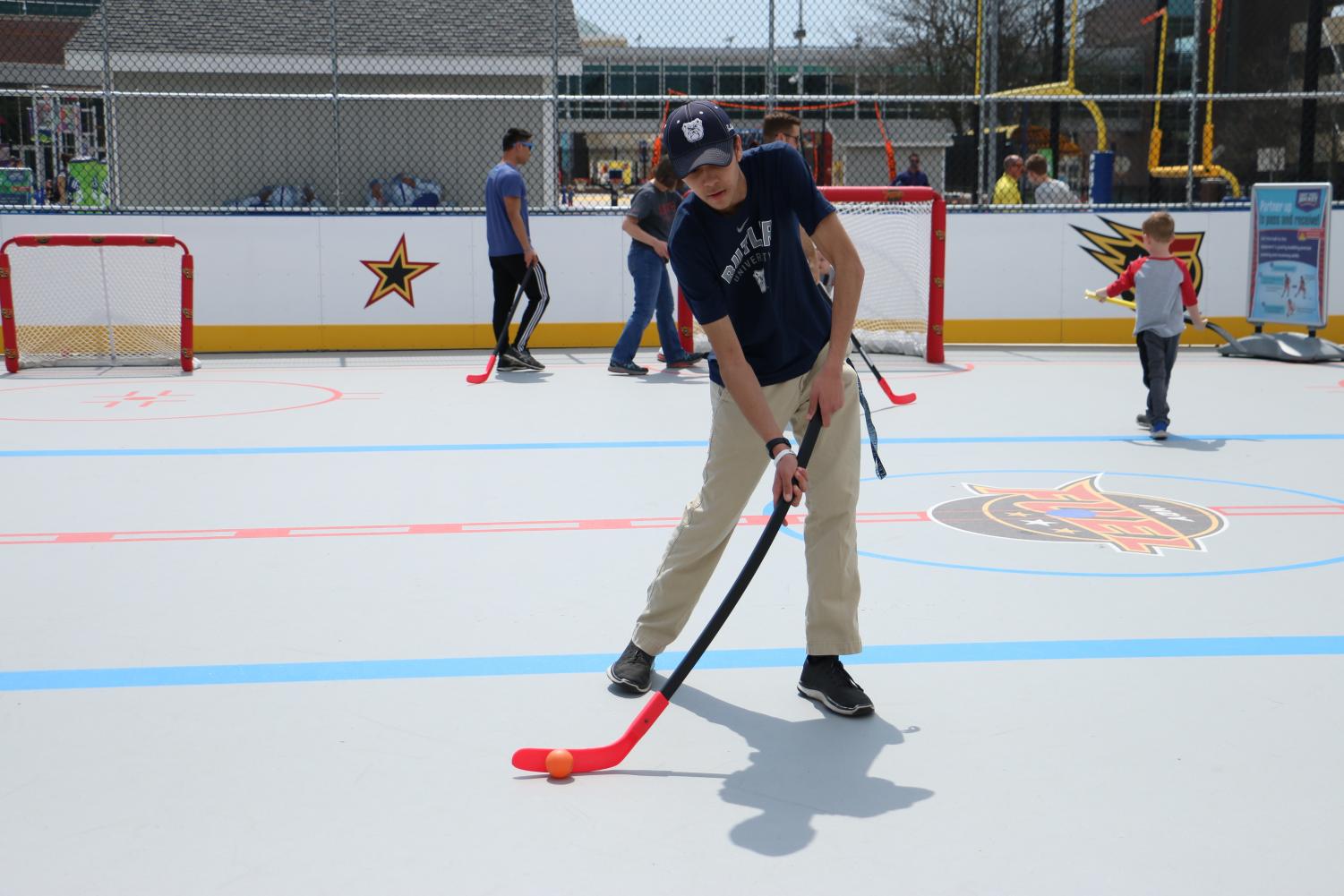 Barlow: Sports Legends Experience will leave you in awe
My time at the Sports Legends Experience can pretty much be summed up into one word: "wow". The moment that I heard about the new exhibit I was giddy to bust out of the judgmental high school world and dive back into my childhood. It appealed to my love of sports but also included my favorite childhood sports heroes like Tamika Catchings and Reggie Wayne. My jaw dropped as we walked across the sky walk and finally caught a glimpse of the massive area of land and I could only utter one word: "wow".
Naturally, as an Indiana kid, the most fun part about the exhibit was the basketball courts. Although the basketballs perhaps may be too small for an 18 year olds hands, I settled in and enjoyed myself. We had so much fun at the area that we doubled back to put up some more shots before we left. With so many things to do, I'm not sure I checked my phone more than a pair of times throughout the day. I suddenly had forgotten about the latest rant on Twitter and was glued to each area that we experienced. As a hockey fan, I enjoyed grabbing a stick a doing my best Wayne Gretzky impression at the "Indy Fuel Hockey Experience" After more fun at the soccer and golf areas, it was nice to sort of cool off and stroll around the two fifths of a mile rack around the exhibit. The exercise equipment lining the track (watch out for those air-walkers, they're a whole lot of fun but make you dizzy afterwards) are fun to run through on your trip around the area. While it may be a tight fit for a 6'0" senior like myself, the 60-foot tall "Children's Museum Guild's Tree of Sports" offers a look at the collosal exhibit.
I can wholeheartedly say that the Sports Legends Experience is perfect for anyone who is looking to get lost in the fun. If you're looking for a way to unplug and let out your inner-child this is definitely the right fit for you. The wide range of activities can keep even those with the shortest attention spans busy and breaking a sweat. I can honestly say that I am looking forward to my next trip to the Sports Legends Experience: my next chance to break a sweat, my next chance to play, my next chance to say "wow".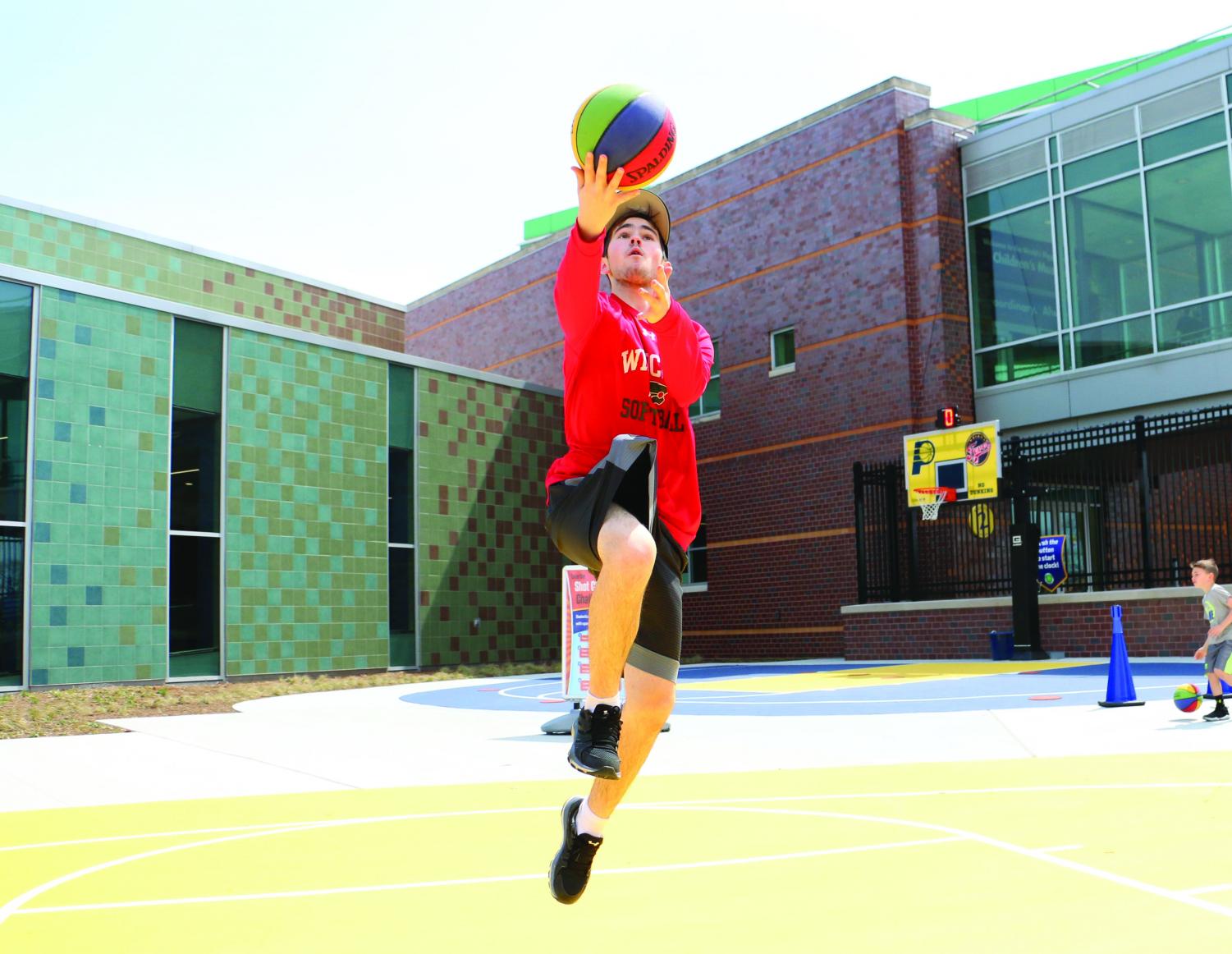 Rigdon: New facility allows adults to be kids again
The Sports Legends Experience is a must visit for anyone and everyone in Indiana.
I was blown away at the size of the facilities to begin with. Just driving up to the parking garage, you can already see the massive area of land the Sports Legends Experience sits on.
We had the chance to be toured around by a lady who works specifically in this new area of the Museum. This experience really gave me the chance to be a kid again. Although we went there as senior high school journalists, I quickly put my camera down and immersed myself with what it meant to be active and participate in sports. We got the chance to play basketball, hockey, soccer and dive for footballs onto a mat. All this time, we didn't have to wait in a line once and we got to experience the sunny weather on our backs.
It may seem awkward being an older kid or adult at a venue geared for little children, but at the end of the day, who doesn't want to be a kid again? We often get lost in the hustle and bustle of the real world with jobs, schoolwork and relationships that we sometimes forget what it means to be a kid. The Sports Legends Experience will remind you.
You can get lost playing basketball for hours on end or grab a stick and fire pucks at the net while Nitro, the Indy Fuel mascot, has a cutout trying to stop you.
There is no limit to what you experience and in the two and a half hours we were there, we didn't even get to try everything.
By the time we had finished, I was sweating and had to stop and get something to eat and drink because we were so worn out.
The Sports Legends Experience will make a day go by in a heartbeat and create memories you can't and won't want to forget. I highly recommend this facility to anyone who wants to learn about sports and fitness because they provide guest speakers and activites almost every day to promote the idea of fitness and getting in shape.
Whether you take yourself, your family or even use it as an outside the box date night, the Sports Legends Experience will provide fun, fitness and the chance to be a kid again.