New Learning Plan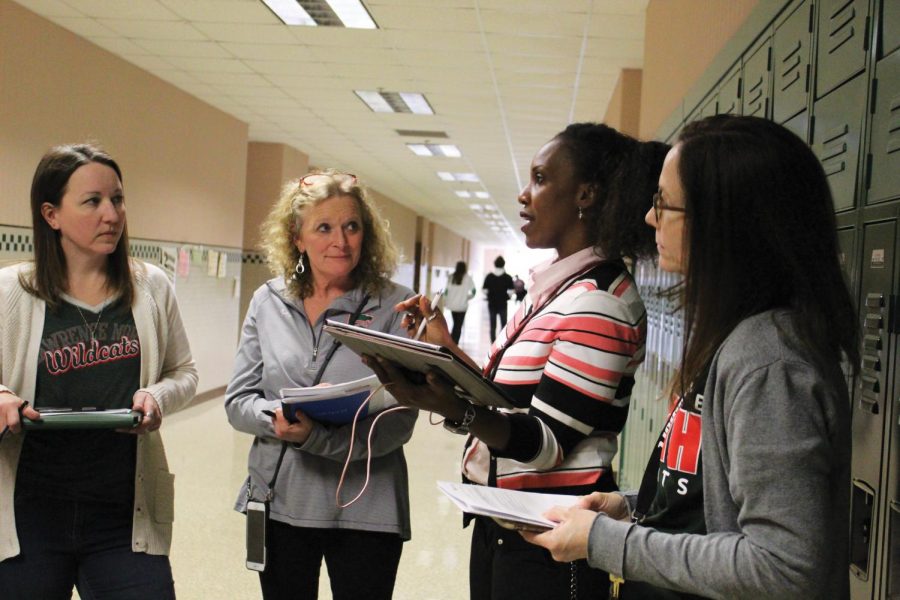 A group is clustered outside on the second story floor. They talk in hushed voices, glancing at their notes every once in a while. They shuffle their papers as they begin to move as one. They enter the dark classroom. The class is illuminated by the blueish light emitting from the large board at the front of the room. The students eyes are glued to the screen, very few even notice the soundless group collecting to the side of the class, already blending in with the natural shadows of the room. They stay for less than five minutes and leave how they entered, quiet and unnoticed. Once outside, into the safety of the abandoned hall, they begin their hushed conversations again. They spend more time discussing what they saw than the actual amount of time that was spent in the room. They move on to the next classroom.
Many students have encountered this "mysterious" group made of teachers and administrators without ever noticing them. Sophomore Nathan Knoderer was in his Spanish II class when he noticed a handful of adults come in the door. They merely stood there, observing the lesson that was being taught. They were in Knoderer's class for a few minutes before leaving. Knoderer thought nothing of it and continued his work as usual. Knoderer has seen the pack of administrators and teachers in a few of his other classes.
"I think they want to check in with students to see how they're progressing the content and the curriculum and how successful they can be, not only in school but in life as well," Knoderer said.
Knoderer's assumption is not far off from the truth. Lawrence Township has been partnering with Learning Sciences International (LSI), an outside company who helps administrators learn how to teach students skills that can help in their future lives and careers. The district has been working with LSI for around three years and are already working on their annual contract for next year.
Principal Brett Crousore has been in meetings with district leaders since the beginning.
"Lawrence Township signed on with Learning Sciences a couple years ago to have a uniform instructional practices model. The goal is improving student rigor in our classrooms. Elementary started as a [first and second grade] initiative then went to a [third through sixth grade] and then it worked it's way up to where now we [Lawrence North] are directly involved in the work," Crousore said.
LSI works with schools by assisting with training teachers and staff members. The "rigor" that Crousore refers to is defined by LSI's website as "the sweet spot where cognitive complexity meets student autonomy."
Gail Charles-Walters has been the LN LSI representative since the beginning of the school year. Although she resides in Florida, Charles-Walters visits LN once a month for coaching implementation days, where she helps coach administration and to run rigor diagnostics, where they analyze how much progress they've made. Although LSI is new to Lawrence Township, the program is international and has been around since 2002.
"From Maine to Washington, we're probably in 30 states at least. We've been working with schools and districts all over the nation. We've also gone international as well. We've had people come from India and those countries. They participate when we have webinars. We have gone and traveled with some outside the country," Charles-Walters said.
Charles-Walters has seen the progress Lawrence Township has been making. Overall LN appears to be following the path LSI helped create. Charles-Walters believes that a reason why Lawrence Township is progressing well is due to the vast amount of district support.
"So, compared to other districts, your district is progressing very well and one of the reasons for that is because of the district level support. The whole district has bought in, and they all understand the work, so it's supported by the district leaders, the superintendent. They ensure the support the planning and because of that your district, as a whole, has been progressing well," Charles-Walters said.
In order for the program to continue developing even when a representative isn't in the building, the school has its own leaders who are knowledgeable in the LSI standards.
Media Specialist Tonya Fisher is the instructional coach at LN and helps train department heads at LN on the LSI standards. Fisher had the opportunity to visit a school in Iowa that was in the later stages of the program.
It was interesting to see how they structure their schedules. It was interesting how they organized their Professional Learning Communities [and] how they organize their students. A lot of the differences is the furniture. They bought new furniture to make it a more collaborative space with kids. There were desks still, but they were in the shape of a triangle, so they all fit together into pods," Fisher said.
Lawrence Township has been working with LSI on developing their vision for what each classroom will look like. A significant part of that vision is for teachers to check more frequently for student understanding and eliminate hand raising. The district's goal is to have students learn valuable lessons that they can apply to their lives post high school.
"The goal of this work is to turn the learning over to students and help our teachers learn how to do that and how to teach our students to be collaborative thinkers. It's shifting towards a different direction in terms of how we're developing our staff and our teachers to be able to do this work at our schools," Daniel Kuznik, Director of Secondary Academics, said.
The campus leaders will walk around to classrooms around LN, looking at the instructional practices. They are not doing teacher evaluations, they are looking to see if teachers are using their training and the skills LSI has taught them. The campus leaders then go out into the hallway to discuss what level that class was operating at.
"First of all we always want to make sure that everybody has the same understanding. What we do is we'll say 'what I see is the teacher is questioning at this level, say a level two.' So we want to collaborate so everyone understands. One might say 'oh no, I thought that was a level one'. We'll have to talk about 'why did you think it was level one' and why it is a level two. It's that collaborating. We're really trying to calibrate and make sure our understanding is the same," Charles-Walters said.
Kelly Ploch is the department chair for world languages. She notices that since LSI has been working with LN, her department has become more collaborative. Ploch realized that before Lawrence Township partnered with LSI, the teachers weren't all on the same page and all had a various approaches to their lessons.
"I think for a long time we were all sort of doing our own thing. Even though we knew what we were doing, we kind of strayed from a common goal. [Now] we brainstorm together. It's the same thing you guys are doing in your classes. It's easier to put your brains together. It's a willingness to be able to learn new things, but then ultimately having all of that come together and being based on a common focus," Ploch said.
While some might like the idea of more group work and student collaboration, sophomore Addison Norton doesn't particularly care about group work herself. However she does see the benefits it may bring to other students.
"I know that for me, working in groups is just generally like 'ugh'. It would probably be a more painful experience just because I don't like working in groups that much. But it could also help students who are struggling be able to get information from other people or be able to help understand information more. It kind of just depends on how this works out and how it's limited and what that looks like in different classes because working in groups in a math class is going to look a lot different than working in groups in an art class or a science class where that's something they're able to do," Norton said.
To Norton, LSI is an unnecessary outside organization that is not critical to the development of improving the education standard. She feels like it would be more beneficial for students if the district hired individuals to help teachers create lessons over more interesting or more important lessons.
"I feel like it's weird that we're hiring people outside of our district because it is for the district. It's also a waste of money with people who are perfectly capable of doing that themselves, especially when we have other stuff we could be spending that money on. Having more groups is probably a good thing in theory, but we still shouldn't have to hire out to get stuff done that our teachers and administrators learned to do themselves," Norton said.
Many students have noticed changes in classroom activities. Crousore is very excited about the changes being made through this work. He likes to think of McKenzie Center for Innovation and Technology as a model, due to the fact that students are rarely lectured and are doing hands-on work pertaining to their possible careers. Crousore hopes that the new school renovations that will take place within the next few years will help optimize this new way of learning.
"Just take a simple thing of classroom size and furniture. If you're going to be up, moving around, have useful space in the building for kids to be out doing, you have to have a design with more of an open floor plan or more collaboration space. It's the same thing Roche is doing right up the street. Mr. Floyd and I had lunch with them a couple weeks ago, twalking about this. They were the ones throwing it at us, more collaboration. People [teachers] get nervous about group work and say 'can I grade this?' I don't care if you grade it or not. I don't care what's in a grade book. My job is to prepare you guys for your next [step]. It's not the focus on the points, it's the focus on the learning," Crousore said.
Norton is skeptical as to whether the new changes will last and make a difference. Norton has heard teachers and students discuss their thoughts on the new learning system.
"I have heard teachers complain about how they're trying to get more group-based and students complain about having to work in groups more. I generally don't think students will change. What they're doing already works. Students don't like being told what to do to begin with," Norton said.
Crousore's vision of the school in the near future is where students are able to work on real world problems and create their own solutions. He hopes that students can one day apply what they're learning in school on school related affairs.
"I'm hoping that we continue the model with more complexity. As students begin to explore, say in the sciences, kids are developing and designing things for the real world. In [statistics] if you're given a situation, let's say it's for me, I need the statistics on free and reduced lunch students who also participate in X, Y, or Z events and their SAT scores. It's real world application," Crousore said.