Teacher goodbyes to 2019 senior class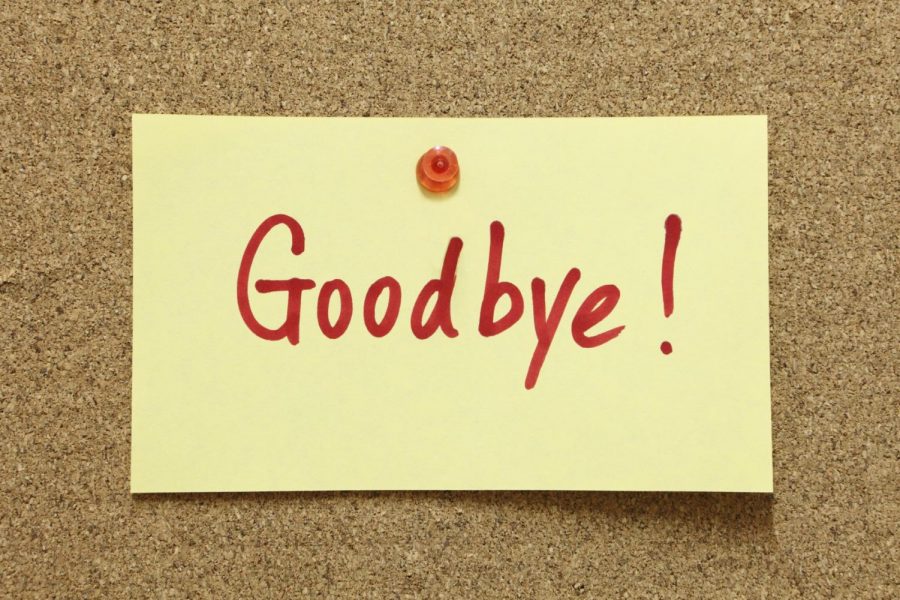 Congratulations Class of 2019! You are about to embark on a new, intriguing, all-things-are-possible chapter in life. Many days will be incredible.  Some days will be difficult. No matter what…persist. Try again. Be courageous. Learn from your missteps and failures. Don't settle when you can do better.  Pause to celebrate the awesomeness of every day. You've got everything you need to head out on the next adventure. Go get 'em…and know you'll always be a Wildcat!
Connie Sivertson
——————————————————————————————————————————————————
To the Junior Class I taught 2018-2019: We grew into each other. We met in one semester, and were inseparable family the next. We hugged it out, every opportunity we saw each other in the year that followed, and I may or may not have written a letter of rec for each and everyone of you.  You have won me. I am yours. May our paths cross again and again and again. Be kind. Be well. And always: words matter! And simply, I adore you…that never goes away.
Amanda Armstrong
——————————————————————————————————————————————————
To my graduates— all of you who have graced my classroom have been sent on with knowledge and hope.  Today, I need to recognize a few specific graduates. Kendall—know you are as special as you are talented.  Your art IS you and how you are perceived on the canvas only enhances the real young man you are. Be Kendall, trust me—you will have a wonderful life and career.   Jace—you are Mr. Darcy and the coconut-clapping servant. Both extremes live inside you, and balanced with your acerbic wit, you will always be the go to person in any group.  How you respond is up to you, but you will always know more, want more and achieve far more than you can imagine or expect. Finally, Neha you are a star in the heavens and a gift to this world.  Your intelligence, heart and head will always pull the universe down to cushion and ease your life. You will be the change our world so desperately needs. To these three, and all wildcat graduates, I send showers of congratulations and cheers for future success.  This is home, and you will all traverse so much further than here. Bravo, Class of 2019.
Ms. Embry
——————————————————————————————————————————————————
Dear Class of 2019… These last four years have given each of you a personal set of
memories- some good and some bad. Hopefully, as the years go by, only the good ones
will remain in your heart.
Learn or continue to value the mistakes you make (or have made) as they teach us more
than our successes and always remember that experience is what we get when we don't
get what we want.
I wish you nothing but the very best next year and in all the years to follow. I sincerely
thank you for the many things you have done to make Lawrence North a better school!
With all my respect,
Mark Frankum
——————————————————————————————————————————————————
To the AVID Seniors:
You are an AMAZING group of young ladies and gentlemen and we know you have tons of GREAT things ahead of you.  Always work hard, find time to laugh and stay true to yourself!
Thanks for being a great class to teach the past two years!
Mrs. Sahagun  & Mrs. Gentry
——————————————————————————————————————————————————
Dear G2 P155 Speech,
Thanks for making Speech so interesting!  Keep on paying attention to Current Events and make a positive difference in this world! Dr. Arthos is depending on you!
Sincerely,
Ms. Masur
——————————————————————————————————————————————————
To my AP/IB Art Seniors, (Grace, Kat, Karina, Kendall, Madison, Sam, Nathan, and Kiley)
Thank you for all of your hard work over the last year or two in AP and IB Art!  Wow! Just think of all the art you have made and all the time we have spent together!  I can't even begin to express how proud I am of each of you. You are all so talented, smart, and fun!!  It has been a pleasure teaching you and I will miss your presence in my art studio! Good luck as you venture out into the world and remember I am always here to help guide you.
Art is Life,
Cooper
——————————————————————————————————————————————————
To my Lynx seniors:
As the first group that I've gone through freshman – senior year with, you all with forever hold such a special place in my heart. I will miss the talent and dedication you brought to the yearbook program, but mostly, I will miss the huge personalities I've grown to know and love over the past four years. I'll even miss all your sassiness, yes, I'm talking to you, Brooke Atkins. According to you all, I have you to thank for my engagement, marriage, and child, so thank you. Also, I'm sorry I didn't name my first born Hannah Whitney Chicken Sweater Bobby Pin Jamerson. Thank you all for sticking with yearbook for all four years. You have made this program better and you have made me a better teacher. I will miss you all more than you know. My door is always open to you. Lastly, never forget Helvetica.
Love,
Mrs Jamerson (Miss B)
——————————————————————————————————————————————————
To: Ms. Kline's Seniors
Your struggles do not own you
let hard times teach you
Share your smile not your frustrations
Know that you are valuable
Always recognize your worth
Realize the power of your choices
MAKE SURE YOU THINK BEFORE YOU ACT
Do not tear others down
YOU ARE HERE TO MAKE A DIFFERNECE
YOU ARE LOVED
——————————————————————————————————————————————————
To my G3 kids,
Accepting the challenge of a year-long class paid off in knowledge and wisdom.
From Federalist debates and Kedesh College to late-night sock basketball and shameful attack ads (nom nom nom), you all have been willing participants in the fun journey I planned for you, and that made it worthwhile.
Use that earned knowledge and wisdom for good (or at least mostly for good) and never be afraid to make something of yourselves in the world.
When you return to LN, please drop in and I hope you'll see your name on the banner.
Anthony Rufatto
——————————————————————————————————————————————————
Dear German class of 2019,
After 4 years it is time to say Auf Wiedersehen.
You have worked hard, grown immensely and made me a better teacher.
Danke! Ich werde euch vermissen.
Eure Frau
——————————————————————————————————————————————————
Dear Class of 2019 Seniors,
I wish you all a successful and stress-free FINANCIAL future as you embark on your lives after high school. I hope you find a CAREER that you love and one where you earn an INCOME that allows you to do the things you need and want to do. Make some MONEY, but learn how to CONTROL it by being disciplined with your spending. LIVE BELOW YOUR MEANS! Finally, start SAVING & INVESTING NOW IN A ROTH IRA so that you build WEALTH and can retire when you want to. YOUR FUTURE SELF WILL THANK YOU! J
Best of Luck to You!
Mrs. Shetter
——————————————————————————————————————————————————
To the Gems!  You are BEAUTIFUL!
You are LOVED! You are not a mistake…You are a GEM!
LOVE, MRS. BRITTON
——————————————————————————————————————————————————
TO THE AVID CLASS OF 2019
I am so PROUD of all that you have become! THERE IS GREATNESS IN YOU! Always remember to SHINE YOUR LIGHT!
Love, MRS. BRITTON
——————————————————————————————————————————————————
TO THE CLASS OF 2019…
I feel like a proud Aunt!  Some of you I have had the opportunity to teach, coach or eat lunch with for almost seven years now.  You have grown so much as artists, athletes and people… and I just couldn't be prouder!
You're all getting ready to move on to the next big step in your life, and no matter where you go, or what you do, please remember to stay true to yourself and follow a few of my simple rules…
Never lose your childish enthusiasm.

Don't shop when you're hungry.

Never rob anyone of their joy.

Life is short. Smile while you still have teeth.

Don't do anything you don't want tagged on social media.

Always pick up your dogs poop.

Choose to be kind.

If doing something is difficult… Do it more. <- This lesson applies to anything.

STAY CREATIVE!

HAVE A GREAT DAY! MAKE GOOD DECISIONS!
Love,
Mrs. Mickie Barsic
——————————————————————————————————————————————————
CETV Seniors c/o 2019
Thank you for being one of my favorite parts of being here at LN.  I appreciate each one of you: Sam, Emily, Des, Kendall, Nina, Olivia, Kiara, Zakiyah, Madison, Kedryct, Megan, David H, Gabe, Trey, Jaida, Richard, Dell, Taylor, Keishya, David P, Keisean, Nathan, Natalie, Audrey and Will.  You took Cat's Eye to another level. Good luck to you for the rest of your lives. Life is work and fun. Whatever you choose to do first, you will do more of the second. Have a great day and go Kittens (CATS!)
Edward G. Tucker
——————————————————————————————————————————————————
I wanted to say goodbye to the class of 2019.  This class holds a very special place in my heart.  It makes me smile to see my former AP Worldies, APUSHERS and Interdiscers in the hallway.  I have great memories of March Madness, Hamilton and great classroom discussions(and of course memes!!).  I wish you great luck as you pursue your dreams. Here's some advice- 1. If it doesn't matter a month from now then it doesn't matter. 2. Be more kind and forgiving to yourself-you deserve it.  3. Enjoy the journey more and less about the destination. 4. Laugh everyday
To my Model UN seniors-Next year will not be the same and I already miss you! I've enjoyed watching you become more confident and use your network skills.  I hope some of you are able to participate in it at the college level. In life, always try diplomacy before the nuke option.
To Jackson Layman I am lucky that I get to see a part of your life that most parents don't.  It has given me a lot of joy to have you and your friends in class and seeing you all in the hallway. Next year is going to be a little more empty.  
Rachel Couch