Siblings remembered for caring nature
Junior Nicholas Nelson and his sister, freshman Ashlynn Nelson, were new students to Lawrence North this school year. They had transferred from Indianapolis Lighthouse Charter School. Though they had only attended LN for three weeks, the news of their deaths was a shock to students and staff. 
"It was kind of crazy because I saw her that Thursday, the day before, and I remember talking to her just about the assignments and homework and that kind of stuff. Obviously, I didn't see her again and that's kind of crazy," Ashylnn's biology teacher Marcus Wilson said.
Nicholas and Ashlynn were killed on the morning of Aug. 23. A 15 year old has been charged with their murders. 
Ashlynn's teachers remember her as a happy and outgoing student.
"She was legitimately always smiling. She always did seem like she was generally happy to be at least in my class in the morning, so I did enjoy that," Wilson said.
Ashlynn loved being artistic and expressing herself. Her art teacher, Mickie Barsic, remembers Ashlynn's creative mind and all the ideas she would come up with. Most recently, Ashlynn was working on a project inspired by the five most influential black women in her life. 
"She had really great ideas. I just remember being inspired by her ideas, her thoughts, her creativity without ever being pushed. She was just creative," Barsic said.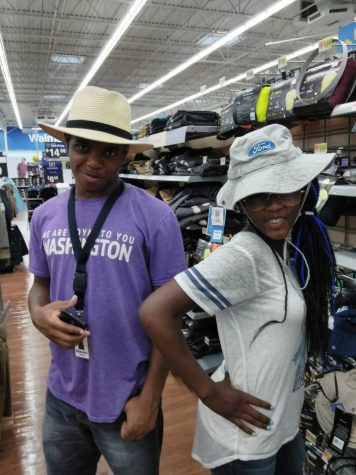 Nicholas and Ashlynn have fun trying on hats inside of Walmart. 
Nicholas' teachers remember him as a leader. According to his geometry teacher Laura Sellers, he was smart and he would use his skills to help other people in his classes. 
"He led in the class. He'd answer a lot of questions. He got up and helped other people. He was very bright and got things done very quickly," Sellers said.
Nicholas had a 4.6 GPA, and he aspired to be first in his class. He was interested in video game designing, and in his free time, he would practice fencing. 
"He left behind this journal entry that was really impressive that talked about his interest in fencing and video game design and being first in his class. It was impressive," interactive media teacher Eddie Matthews said. 
Nicholas was also involved with volunteering with Indy Urban Acres, an organization committed to providing fresh farm foods for low-income families. 
It's the two students' giving personalities that their mom, Antonia Bailey, remembers most. 
"They were absolutely amazing, two selfless individuals who would give their lasts just so someone could have something. They would rather go without just to see the next person happy," Bailey said.
Bailey remembers Ashlynn's fun and social personality. 
"She absolutely loved to dance. She probably has a kajillion pictures and videos of herself on Instagram of her dancing. She had a lot of fun with that. She had a very outgoing personality," Bailey said. 
Bailey remembers Nicholas as being a gentleman and being kind to everyone around them.
"There's nobody else ever like him. Just thoughtful all the way around. He wanted to make sure that everyone was okay. If he was with a young lady or a woman when he was coming in, he would make sure he opened the door for her without any question," Bailey said. 
Nicolas and Ashlynn took care of one another and also looked out for their younger sister.. According to their mother, they were always willing to help out in order to make something better. Bailey wants people to remember that Nicholas and Ashlynn were considerate and attentive teenagers. 
"Nicholas always made sure that both of his sisters were okay, he went out of his way. Ashlynn made sure that she would be able to help out with her little sister, just trying to make life easier. They always wanted to make things better," Bailey said.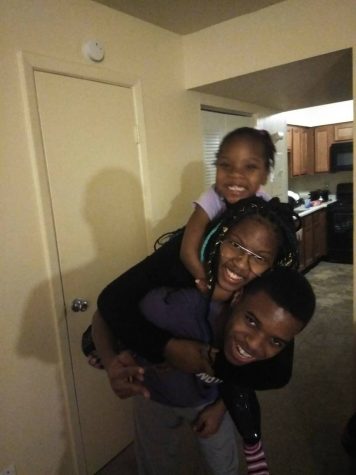 Nicholas holds his sisters Ashlynn and Aiydenn on his back. 
Nicholas and Ashlynn were both caring individuals who loved helping out the community. Bailey wants people to remember them as kind and loving individuals. 
"Their story is untold. That's the hashtag we are going with anytime we post anything on social media, #untold. [I want people to remember them as ] just being loving," Bailey said. 
Nicholas and Ashlynn's viewing will be Sept. 7 from 11 a.m.-1 p.m. at Mount Carmel Baptist Church. The funeral service will follow beginning at 1 p.m. Contributions to the family can be made through cashapp for food, burial expenses, and moving expenses. Other ways to help the family can be seen below.