Gun violence impacts students in many ways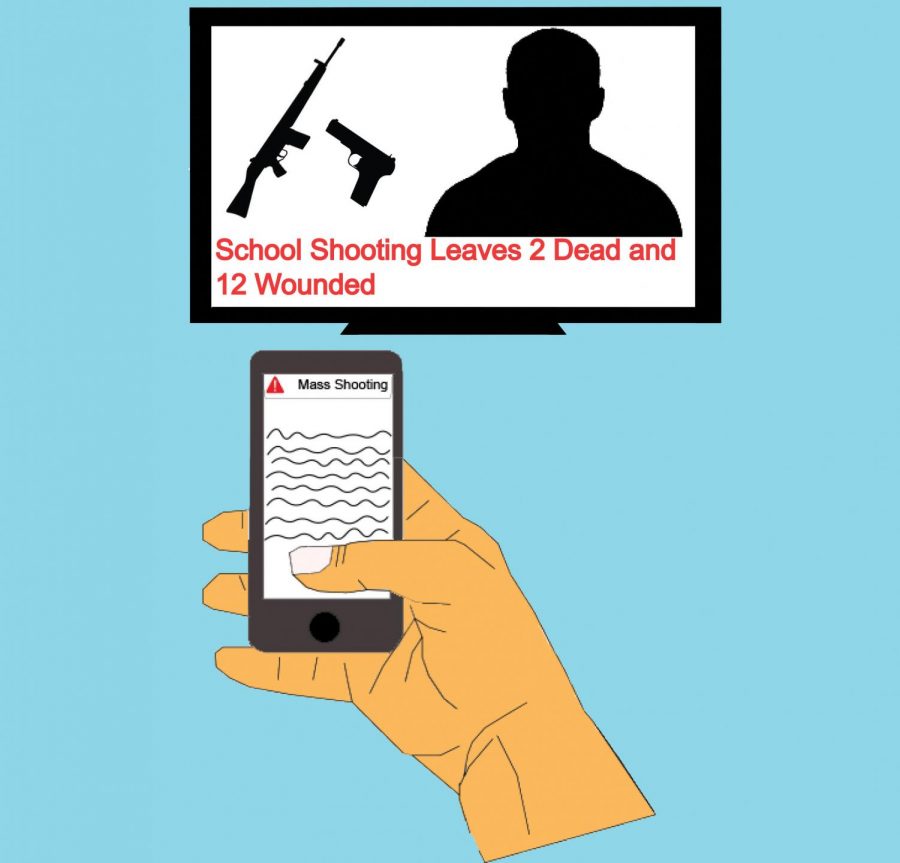 Shootings happen almost every day in Indianapolis, some resulting in the death of innocent young people like Lawrence North students Nicholas and Ashlynn Nelson, a senseless killing that left the community torn and fellow classmates struggling to cope with the loss.
Nicholas and Ashlynn Nelson were shot and killed on Aug. 23, 2019. Both active and bright students who had just started at LN after transferring from Lighthouse Charter School, they became victims of gun violence. Gun violence has been an issue that has steadily increased in the community.
According to the Indy Star, the number of deaths by guns has doubled in Indianapolis from the year 2016 to now, and the main victims are people ages 15-25.
Gun violence has affected LN first hand, and students are left having to cope with the loss of a friend or classmate.
"David Cooper, Trayvon Bonds, I'll list a few. Those hurt me because I spoke at their funerals. I lived it," principal Brett Crousore said. "A young person at age 18, 19 who has died, not to his own fault. It is very sad."
It is not only staff members who have a deal with the loss of LN students. Students like senior Marcea Lewis have experienced first hand what it is like to lose a friend.
"I was good friends with a girl named Shiloh who attended our school. She was shot and killed almost a year ago. It scared me and made me feel like the world is cold and shows no mercy," Lewis said.
According to Gallahue counselor Tyanne Clancy, people may experience feelings of sadness and guilt, but there are also effects that go much deeper mentally and that can many times be long-term.
"Kids that I've worked with who have lost a friend to gun violence, when they hear stories of guns or hear things about violence, it is a trigger for them. So even if they didn't know the newest victim, it automatically takes them back to their experience," Clancy said.
This experience as described by Clancy is a common mental roadblock called anxiety. According to the Anxiety and Depression Association of America, or ADAA, anxiety is a disorder, and is the most common and pervasive mental disorder in the United States. According to ADAA, just because anxiety is labeled a "disorder," that doesn't mean it should be alarming. Anxiety is very common, but if left untreated can become a long-term illness.
"Coping with anxiety is different for different people, but I would say most of all just talk about it. I think that the worst thing you can do is not talk it out. People think that not talking about it makes the hurt go away, but it doesn't. When you don't talk about it you are at risk of taking your anger out on other people," Clancy said.
There are students at LN who have been affected due to experiencing losing someone to gun violence, but there are students like freshman Kelsey Flores who have never lost someone to gun violence but still feel affected by news like this.
"Sometimes hearing about it makes me scared because you never know if it's going to happen to you," Flores said. Flores is one of those students along with others who can not relate to losing a loved one to gun violence, but just because you have never experienced that trauma doesn't mean you may not feel sadness or fear.
"As a therapist, I'm on the crisis response team. I go to many different schools and hear many different stories. So hearing people's stories, I have to make sure I take care of myself. I have to stay strong for the people I'm working with, and make sure it doesn't affect me," Clancy said. "I have never lived through what most of my clients have, but it still makes me sad to hear it, especially when it's on the news all the time, and you're constantly hearing about shootings. It is definitely alarming."
As stated by Clancy, gun violence can affect a person mentally through anxiety which can feed into depression and lack of focus. According to the Child Mind Institute, anxiety can "lock-up" the brain making school hard for anxious kids. This can result in less production in school, and as Lewis experienced, can have an affect on friendships as well.
"When my friend Shiloh was killed, for a while I was pretty distant. I was scared to grow too attached to other people. So it didn't necessarily affect me in school, but it changed my relationships," Lewis said.
Gun violence is an issue that will take a long time to resolve, and if people aren't willing to come together, the issue may never be resolved.
"A person has to internally except that this is not the appropriate course of action," Crousore said.
So, while trying to solve how to stop gun violence may be an issue for another day, people can come together as a community and help others to be able to cope better with loss.
"I would just be supportive. The best thing you can do for a person is show them that you care," Flores said.
As a friend of someone who died due to gun violence, Lewis found that having the support of friends and family was the most beneficial.
"Obviously it is kind of something you have to overcome on your own, but having family there to support you makes it easier," Lewis said.
And, if friends and family are not the people in a position to help during a tragedy, there is always staff at LN who can.
"Lawrence North does an amazing job of being supportive towards students, and I've been to a lot of different schools," Clancy said.
As Lewis experienced, losing a friend to gun violence took a long time to recover from, but there is one thing she uses to remind herself to help her with the lose.
"Everything happens for a reason. The loss taught me how to be a stronger person, and I try to make decisions in life that will make her proud," Lewis said.