The rise of new players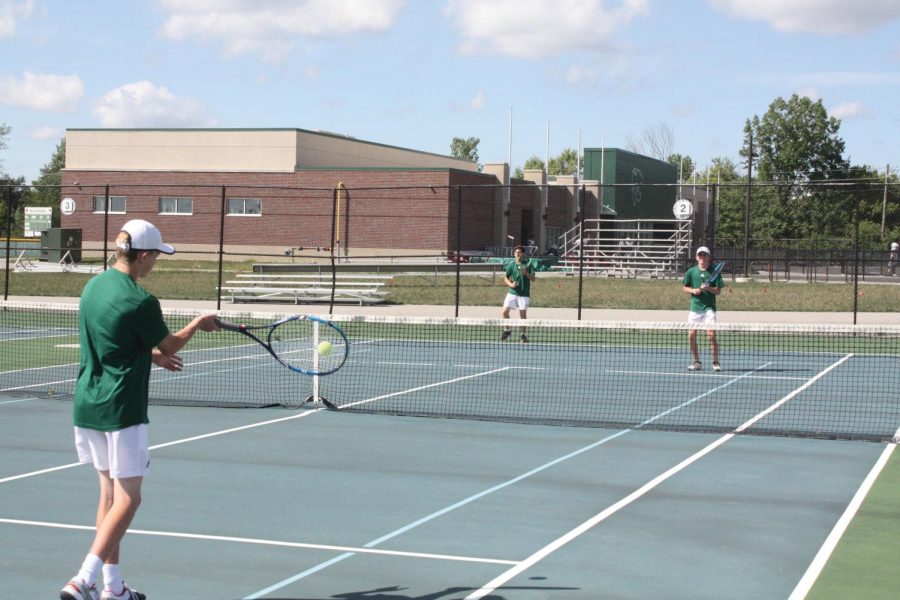 Matt Kretler, Staff member
September 13, 2019
After last season ended, only one player remained on varsity. This left a mostly young team to begin this season, but this inexperienced group of tennis players are ready to come back better than ever.
On the doubles side, three of the four players on the team graduated or aren't on the team anymore. The other player from last year's team, then junior Jasper Suiter was injured last year. Suiter injured his foot and didn't play that many matches following that year.
"We have other guys who have to fill in at the doubles spot and due to graduation and/or injuries, our doubles players don't have much experience either," assistant coach Brad Cangany said.
Suiter, a senior leader on this young doubles team, is now healthy after suffering from his foot injury and is now ready to tackle this upcoming season. Despite new players on the doubles team, he is still setting the bar high for him and his teammates. The ultimate goal for this season is to win sectionals again.
"That would actually be awesome and it would mean a lot," Suiter said.
On the singles side, it's a different story than doubles team. The tennis team graduated their No.1 singles player and are relying on the younger guys to step up and fill in that No. 1 spot. Both top 2 singles players this year are sophomores, Kyle Manner and Braden Yu. Though underclassmen, they both have varsity experience being some of the top players when they were freshmen.
"Last year we graduated our No. 1 singles player (Zach Pointer). He was a very strong singles player (who was) ver
y dedicated so (now) the younger guys have to move in and fill in for him," Cangany said.
One of those players that's filling in the No. 2 singles spot this year is sophomore Braden Yu. Yu was a freshman on varsity last year and was the No. 3 singles player. Last year, he learned how to deal with the pressure of being one of the younger players on the team since he was one of the younger players on the team. This year while battling an injury, he hopes to win sectionals this season as his brothers did before him by working really hard.
"It would mean a lot especially because both my brothers used to be on the team, so I want to carry on the legacy," said Yu.
Despite the lack of experience on varsity compared to last year, their eyes are set on the usual prize-sectionals. The tennis coaches measure their team's success this year based on the sectional outcome and want to play their best players around sectional time. This year, they hope to win a 10th straight sectional title to sweep the decade.
"Overall the goal is always to be playing our best tennis at the end of the year when we go into sectionals. We really measure our success on whether or not we win the sectional," Cangany said.
Winning sectionals is always the challenge especially when you have both your rival in LC and Heritage Christian, which are always competitive matches even though LN already beat them earlier this year, in the same sectional. The keys to win sectionals are to not make fancy shots and let the other team make mistakes.
"Instead of us making mistakes, we keep hitting the ball back so they make mistakes. And that has been proven to be a really effective approach. Also helping our guys understand, you don't have to hit winners. They don't have to do fancy shots. They have to keep the ball in play and that's in tennis terms, hit it deep and hit it down the middle," Cangany said.
Accomplishing these keys during the sectional tournament could improve their chances to sweeping the boys tennis sectional decade. The sectionals start on Thursday, Oct. 3 at LN at 4:30 p.m. Teams included in this tournament are LN, LC, Heritage Christian and Warren Central.