Endurance through pain
Boys cross country junior learns to keep pushing forward despite an injury that has kept him out all season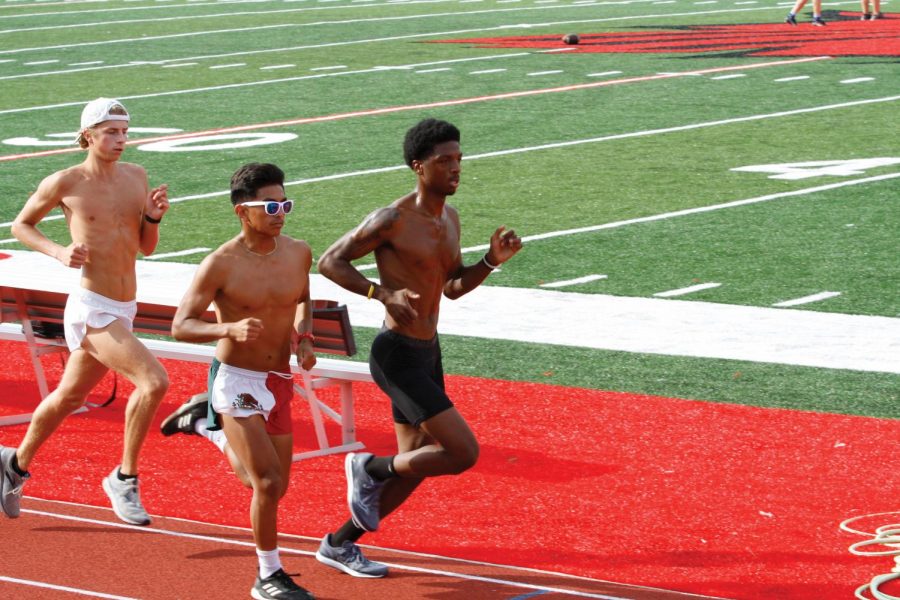 Matt Kretler, Staff member
October 11, 2019
Junior Quinten Rostron stood at the starting line of the HSE Hokum, the first XC race of the season, with the rest of his six varsity teammates, thinking about his hopes for the team this season. A feeling of nervousness, adrenaline, and excitement ran through his veins. What he didn't know as he stood there was that something would happen on that Saturday morning that would have huge effects on his XC season.
"I was a little nervous about [the race], just really excited for the start of the season. We had big hopes going in, hopefully to Semi-state for the end of the year. It was a chance for things to come together, but it didn't really work out like that," Rostron said.
According to head coach Ben Morgan, Rostron was running great, but then he came to a little problem during the race that would affect the future of his season.
"There was a big straight away to a tight turn into a downhill with uneven footing. I didn't notice it at the moment like a shooting pain, crack, or anything. Then coming out of it, I was like, 'Something doesn't feel right'. I kept going and jumped over one of the hay bales that were on the course. I was like, 'Yeah, something doesn't feel right," Rostron said.
Rostron finished the race despite his injury. Not finishing wasn't an option for him. He wanted to give his team the best possible shot to place.
"At first it was adrenaline. You're in that state of mind where you have to finish. You're in a race, you can't hop off, you don't want to let your team down so you just keep grinding it out. You think about that finish line," said Rostron.
Rostron, after advice from trainers, went to the doctor and got the shocking news, he did break his second metatarsal and would be out indefinitely. Being sidelined for almost two months has been hard for him mentally. He wishes he could be out there running; however, he's proud of his team about how they have handled the loss of him, one of their top runners.
"I was in shock. I kinda saw it coming from talking to the trainer before. It was really tough [to tell my coaches that I would be out] because they had put a lot of weight on me. I was in that top group of guys going into the season and taking a lot of weight for the team," said Rostron
Athletes do get injured, it comes with participating in sports. Sometimes the injury is small and athletes can work through it, not affecting them much. But other times, like with Rostron, it ends up having a bigger impact. What some people don't realize is that physical injury can also take a mental or emotional toll.
According to Margot Putukian, athletic medicine director at Princeton University, in an article written on the NCAA website she says, "When a student-athlete is injured, there is a normal emotional reaction that includes processing the medical information about the injury provided by the medical team, as well as coping with the injury. Those emotional responses include sadness, isolation, irritation, lack of motivation, anger, and frustration."
These are all natural responses to how an injury can affect athletes like Rostron. Though, Rostron has been trying to be as positive as possible while still contributing to the team even though he can't yet run currently.
" You got to find another way to help the team out, he's done a really good job of that. He's being a really good teammate and example to the younger guys," Morgan said
Rostron has made strides to hopefully come back to help his team, although the time table might be towards this weekend, sectionals time. He isn't in an aircast or on crutches anymore. Rostron has been working hard doing 1 minute intervals of jogging and walking. Also some pool running at 6:30 am a couple of days weekly. He hopes to come back this Saturday at Brebeuf, but isn't pushing it in lieu of possibly causing him permanent damage to his foot and missing track season.
"I've been trying to keep my head up. There's no rush, track season is on the other side of the winter. I have plenty of time. Gotta keep myself in the right place. Keeping my head up and stay focused," Rostron said.