Another step in history
Girls basketball team works to return to state, this time planning for a different ending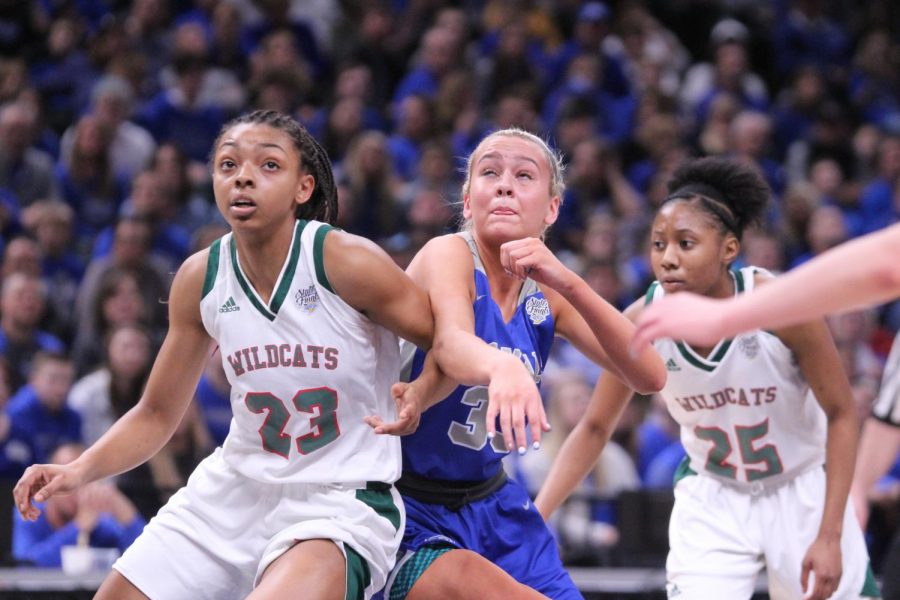 Lessons were learned on that chilly February night when LN girls basketball played HSE at Bankers Life Fieldhouse for a chance at the first state championship in program history.
"Basketball is definitely a team sport. You're only as strong as your weakest link, and you have to be prepared for anything," Senior Lauren Gunn said.
"At any given moment, life will throw you a curveball and you'll have to overcome it," Senior Kristian Young said.
"One of the biggest lessons I learned from the state game last year was that you have to be prepared for anything. We lost Justis Odom in the regional game and then Lauren Gunn also went down with an ACL injury during the state game, which hurt us. We didn't have a lot of depth last season and it was exposed during the state game. Another lesson I learned was everyone has to lock in on the small things whether it's practice, scouting, or film, every person on the roster has to lock in and make sure they know what's going on," Senior Katie Davidson said.
The end result wasn't what the girls hoped for. They ended up runners-up, losing 55-44, but still walked away with lessons learned like the ones above that they hope to apply to this season to make their team that much better. Going into this season, they are ranked No. 4 in 4A, according to the Indianapolis Star pre-rankings.
These goals, though, are not just for this season. They have been a standard for success for head coach Chris Giffin's team every single year in his eight year tenure as Lawrence North's girls baseball head coach.
"Our goals are always the same. We want to win the county championship, MIC, as many games overall as we can, a sectional, and after that start looking at regionals, final four, and then state championship. Everybody wants to say that they want to win state, but ultimately those are our goals, and we have things that come before that. We have to approach those first," Giffin said.
A loss in such a high profile game, like last year, and reminding themselves of that moment for eight months might be dejecting to some, but the team has used it to fuel them for this season. They continue to prepare the same way as they always have for the grind of the season that started yesterday at home versus Noblesville.
"The returning girls were certainly motivated by it and they certainly enjoyed that experience and relishing that experience going all the way to state. We were upset by the outcome of that game because of the fact that we had a couple girls that got hurt and are still trying to rehab and get back which is definitely a goal for them. I think that has fueled them somewhat," said Giffin.
Some might also say that there's a lot more pressure to perform well this season as they went all the way to the state championship and have returned almost all of their team except one player. But they have had winning seasons since Giffin started as head coach in 2012, so that pressure isn't anything new.
"We've already been there," Giffin said. "In my eight years we have started the year No. 1, we've ended the regular season No. 1, and we've been No. 1 the whole year. We've constantly been ranked very high in all of the conferences, sectionals, regionals. We've always been a team with a target on our back. I do think it's probably a little enhanced this year just because it is just so recently," Giffin said.
Added pressure or not despite the lessons learned, the Wildcats plan to rely on their strength, which, according to Giffin, is the senior leadership of Katie Davidson, Kayln Ervin, Lauren Gunn, Justis Odom, and Kristian Young. All but one participated in the state championship game against HSE last year. Even though there is a lot of senior leadership, they need two of their players who are currently rehabbing from injuries that occurred during last season's run in the state tournament to be healthy so they can reach their goals for the season. Odom got injured in the regional championship game against Ben Davis, two games before state, and because of the extent of her injury she couldn't participate versus HSE. The other is Gunn who was injured in the third quarter of the state championship game and couldn't be put back in for the rest of the game
"We are very fortunate to have a senior-led team. If all of them can be healthy, they all are big factors and contributors. Possibly all five at some point or another might be in the starting lineup. It helps it have that veteran leadership and girls that have been there done that so to speak," Giffin said.
Lessons learned and have a vast amount of senior leadership, the Lady Wildcats girls basketball team hopes to not end this historic chapter in program history They hope to continue this by winning their first state championship ever.
"We would like to win make history again by winning state," Young said.
They would like to have that feeling that HSE did once time expired at the end of the game as time expires. They want to rush the court, cut the net, and get a huge state champ trophy. A feeling of triumph, victory, and immense joy as the trophy ceremony begins and they get to hoist that trophy in front of thousands at Bankers Life Fieldhouse
"It felt like we were really, really close," Giffin said. "If we had that opportunity to get back there (to state) again we would want to be on the other side of that."