The end goal in sight
Senior Tony Perkins is in his final season of basketball and is focused on bringing a title to LN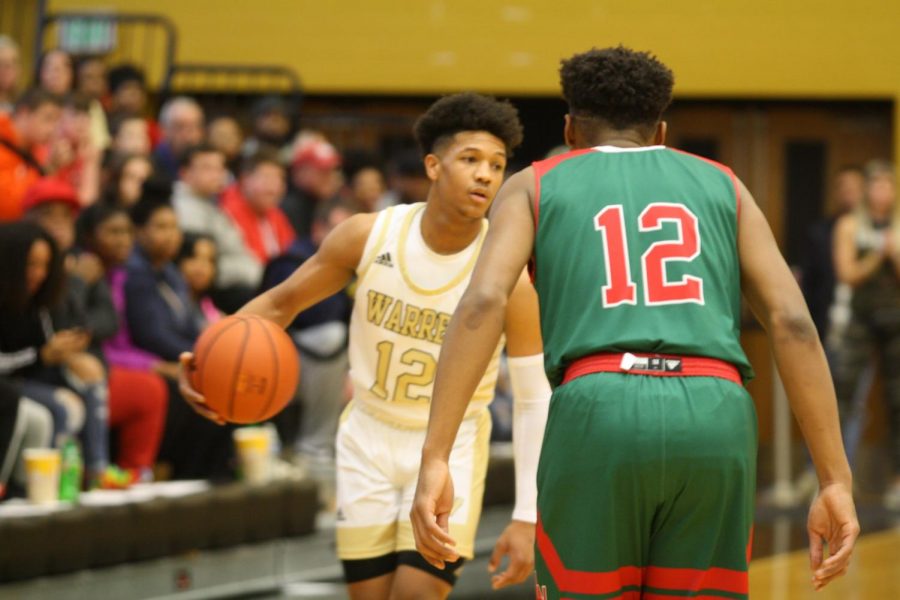 Jan. 10, the boys basketball team is facing Warren Central in the most highly anticipated game of the week in the Metropolitan Interscholastic Conference.
The crowd at Warren Central is going crazy and the gym is shaking with intensity as fans on both sides are on their feet and are cheering on their respective teams with pure enthusiasm. It is a close game and the Warren Central Warriors are leading the Wildcats 49-48. Warren Central's Malik Stanley drives to the basket and makes the layup to increase Warren Central's lead to three, 51-48 with 1:11 left in the game. The Warren Central crowd erupts as there is hope that they might knock off the No. 1 team in the state.
The Wildcats call a timeout and in the timeout they have noticed how much Warren has tried to double team senior Tony Perkins and look to use that to their advantage.
They need a big play in order to stay in this game. The Wildcat timeout ends and they get the inbounds play. Perkins handles the ball and starts to go down the court. He breaks the partial full court press and drives to the basket. The Warren Central defense collapses closing off Perkins' path to the hoop, but Perkins sees junior guard Shamar Avance wide open in the corner. Perkins kicks it out to wide open Avance in the corner for a three pointer to tie the game at 51-51 with 56.1 seconds left in the game.
"Every team we play only focuses on me so I look to dish out when I don't have a driving line. I just had trust in my teammates so that's what I did which was pass it," Perkins said.
Perkins has made many big plays when the Wildcats have desperately needed some this season. Perkins is averaging 21.9 points, six rebounds, and five assists per game (as of Jan. 30). Head coach Jack Keefer has seen a lot of great players like Perkins come through the boys basketball program in his 44 years. Keefer thinks of Perkins as a special player and puts him in a very elite category of players who have played at LN.
"He's got good skills. He's shooting threes at 45 percent, which means he can drive at any time he wants because they are trying to stop his three. He's got a Big Ten scholarship waiting for him. He is just right there, that line of people on that wall right up there (players who have their Indiana All-star jersey retired), he's going to be up there with them. He might have a shot at Mr. Basketball if he keeps playing the way he is," Keefer said.
Perkins play has been superb and people from all over the state have noticed how well he is playing, not just Keefer. Many consider him as a legitimate Mr. Basketball candidate, which is given to the best senior boys basketball player in Indiana and is usually announced between the end of April or beginning of May. Perkins isn't as concerned about the chances that he has winning the 2020 Mr. Basketball. His eyes are set on winning with his team first and foremost. The accolades can come later.
"I really don't get into the media and the rankings because it's always different opinions. I just want to win, so I do as much as possible for that to happen. Of course I would like to win Mr. Basketball, but my main goal is to go all the way to state and win the state championship," said Perkins.
Not only is Perkins a special player with clearly laid out goals, he is also a leader on and off the court for the team. He has embraced that role and has a hard working mentality.
"I feel like he is probably one of the best leaders that I have ever had, especially in high school basketball. He is very influential and he is a very hard worker, and it rubs off on everybody," junior center DJ Hughes said.
The impact that Perkins has had on his teammates is something special. He doesn't play as if he is the only one on the court. He makes his teammates around him better by sharing the spotlight and not just making it the Tony Perkins show.
"He does not only a great job of leading us on the court, he makes sure that all of us touch the ball in the game while still scoring and giving us energy," sophomore guard CJ Gunn said.
Sharing the spotlight isn't something that Perkins just does occasionally, he does this every night. Making people better, leading their team, and putting the effort is what great players do and that is what Perkins does.
"He just goes out every night. I mean he is getting six assists a night, he had a high of eight assists one night. He's getting six, seven, and eight rebounds a game. His error to assist is really low, and that's what people look at. And then his shooting percentage, I mean it's 64 percent from the two and it's 49 percent from the three. Anytime he shoots it he has a heck of a shot of it going in. People have got to pay attention to it and I am sure that leaves other guys with better shots than they normally get if he weren't on the floor," Keefer said.