Opportunities expanded to more students
LN is offering a new program to honor more seniors alongside Top 30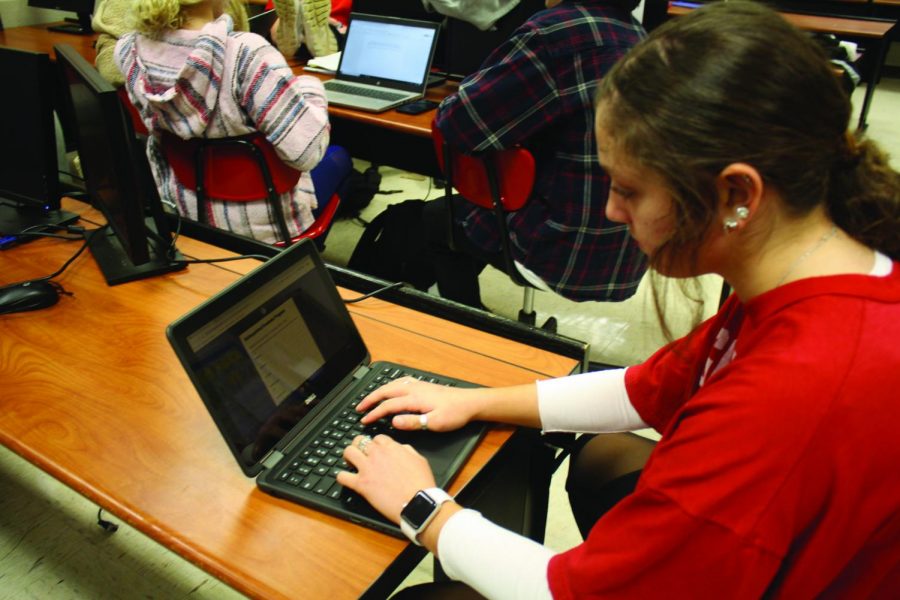 Inclusion and recognition is being celebrated for a handful of seniors this year through a new distinguished graduate program. This program recognizes not only GPA and grades, but also takes into account extracurriculars and outside clubs and job experience. 
One senior, Fiorella Cardenas, who is involved in the new program, is in many rigorous classes but is also happy her achievements in her extracurriculars is being noticed.
"I decided to participate because I feel like overall throughout my four years I've been very involved in the school, and I thought it would be a great opportunity for me. The program is new as well, so I just wanted to participate in something different," said Cardenas.
Cardenas is the Vice-President of the Principal Advisory Council (PAC) along with the club Health Occupation Students of America (HOSA) where she is the treasurer. She is also a member of other clubs such as Tri-Hi-Y, National Honors Society, French Honors Society and many others. 
"I think the Top 30 and the distinguished program are equally fair, they are just different. So let's say there are students who were also involved, they can also get recognized for those aspects too and not just GPA," Cardenas said.
The Top 30 and Distinguished Graduate Program both recognize achievement, just in different ways.
"The Distinguished Graduate Program is modeled off of a program that is used by Carmel High School. They started it 12 years ago to recognize excellence in the categories of academics, extracurriculars, and co curriculars. It is recognizing what colleges want in a student, which is a well rounded student in all of those three phases. It is a way that we can recognize students that is not just based on the courses that a student took to try to maintain or attain a certain GPA," Principal Brett Crousore said. 
Some students like Cardenas feel like the Distinguished Graduate Program and Top 30 are equally fair, but there are some, like junior Kyle Preston, who feel that the Distinguished Graduate Program does a better job of celebrating more students' achievements. 
"I like it better because I think extracurriculars and stuff you do outside of school are pretty important in high school and life. Not taking that into account can be unfair to students who do a lot of stuff outside of school," Preston said. 
Top 30 strictly focuses on high GPA, which can be difficult to achieve without some Ap and weighted courses. Students who are involved in other subjects like art, music and jobs outside of school aren't as often taken into account. Assistant principal Jason Floyd understood a need for change. 
"When I was in high school I took rigorous courses and everything but I had friends who were not in the higher science and math classes but they still took different higher classes and were overall good students, but didn't have a higher GPA than me because I was taking more challenging classes. I feel there are a lot of students who are overall good students but they aren't getting recognition for it. This program does a better job of that," Floyd said.
Floyd understands that high GPAs and grades are important but that developing other life and social skills are as well. 
"The Top 30 gets a little cutthroat sometimes, and we just don't want kids to be all GPA and that's it. We want them to have a better experience and you know maybe that senior year instead of taking that higher level course that you really don't need they can do something like yearbook or something that they truly enjoy. We just want them to have fun and experience different things," Floyd said.
Students are awarded points based on their involvement and achievements throughout their four years of high school. They are then later on selected by a committee, made up by: school counselors, performing arts staff, athletic staff, the assistant principal in charge of clubs and activities and the district director of secondary education, to be identified as a Distinguished Graduate and wear a medal during graduation.
"This program is more beneficial because Top 30 is purely GPA and that's it. The distinguished graduate program looks at the person as a whole," Floyd said.
Even though more students are being recognized in the Distinguished Graduate Program, those students in Top 30 are still being celebrated at an annual Top 30 Banquet, awarded with a plaque, and will have their picture permanently displayed in the school. 
"Top 30 will forever be recognized here. I don't want it to go away because it's a great accomplishment, I just also want to recognize that students are involved in other things and can still remain those high grades." Crousore said. 
This is the first year that LN will take on this program, and although the program has gone through a lot of planning, administrators are still unsure of what activities and clubs should be included, and will make improvements in years to come.
"The senior class is the first to have a chance to be a Distinguished Graduate and then it will progress over the years and we will slowly change that and how the Top 30 works," Floyd said. 
The Distinguished Graduate Program recognizes a wide variety of extracurricular activities such as student government, honor societies, art and technology clubs, community service and leadership, performing arts, sports, bilingual proficiency, CTE certifications and other factors such as AP and IB, SAT and ACT scores, PSAT scores and GPA. 
"I think this program is a better way to prepare students for life outside of high school because of course students with high GPAs are going to do well in college but we want students to develop other life and social skills as well. This program will allow students to do that," Floyd said.
Developing those life skills are mostly reliant on being well-rounded as a person. Crousore believes that being well-rounded is truly what a scholar is.
"There is more to school than just the 8:50 to 3:40. We want our students to be involved in any different activity. Most of the leadership you learn you don't learn in a classroom. You learn it in clubs, performing arts, athletics, community service, anything," Crousore said. 
Overall, recognition is something that LN is truly about. Whether that is through the Distinguished Honors Program or Top 30, students can feel confident in knowing that their achievements are being recognized.
"I believe in rewarding excellence," Crousore said.