History Made
Lady Wildcats won the state championship against Northwestern 59-56 for the first time in school history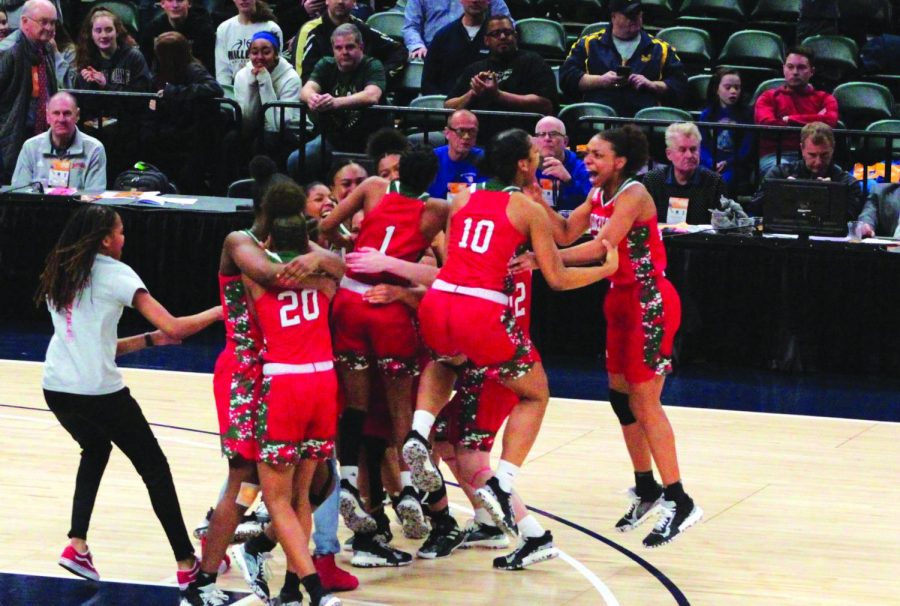 Two seconds are left on the clock, and LN leads Northwestern 59-56.
Senior Kristian Young steps up to the foul line for a free throw attempt. Young strategically misses it, and a struggle for the ball begins between senior Katie Davidson and Northwestern forward Madison Layden, but Davidson tips it out of reach of Layden. The clock trickles down to zero, and for the first time in school history, the girls basketball team are the state champions.
"I felt a bit emotional because that was my last time putting on a Lawrence North jersey and playing with this special group of girls, especially my senior teammates. However, I'm glad I got to play my last high school game at Bankers Life and become a state champion. There's no better way to end a high school career," senior forward Katie Davidson said.
The Lady Wildcats were considered underdogs going into the highly-anticipated 4A match-up. Northwestern was ranked No. 1 in the state for the class of 4A after winning back to back state championships in 3A. They hadn't lost since Jan. 19, 2019. But in the end, the Wildcats' scrappy play and never quit attitude helped them beat the Tigers.
"I was shocked. It was just like, 'We just did that!', Young said.
For head coach Chris Giffin, it was fitting that the final play in the final game came down to one of his senior starters.
"For Kristian, she is a great rebounder for her position, for her to get that rebound and get fouled. You know I trust her completely to go do what she needs to do it, but it's fitting that she or Katie or Lauren or one of those senior kids to be able to make such a critical play down the stretch. It really kind of sealed the win for us," Giffin said.
The theme of this overall season has been that of close games. The Wildcats had to fight for a good portion of their 26-4 record. Six of their games this season, including the state championship game, were decided by five points or less. The regional championship game against Brownsburg, where they won 58-57, is a perfect example.
"We beat them by one the first time," senior guard Kayln Ervin said. "Then we beat them by one the second time too, and it was at the buzzer."
It's those moments that stand out to the seniors.
"Beating Brownsburg again by one for the second time," senior Lauren Gunn said.
"That was intense," Young added.
But this win, this final win, was also special, since the ending was better than last year. It capped a long year of waiting to be on the other side.
"Getting the blue medals this time," Ervin said. That was something this team had been waiting for and working toward since Feb. 23, 2019 when they lost to HSE. It was on that night that junior Jayla Smith made a prediction.
"What was really going through my mind was next year, and preparing for next year," Smith said.
That determined mentality is something that was evident from the start of this year's season, when the team jumped out to a 19-0 record. There was just a conviction and tenacity in everyone's mind and actions.
"Our mindset was the difference. We just were determined to win. We knew we were going to win this season," Young said.
Even in the losses, they had goals, and they stuck to them. They were Marion County Champions, MIC Conference Champions, then came Sectionals, Regionals and Semi-State. In each, they maintained their focus and composure, slowly moving toward that one big check mark. Not backing down from those goals made this dream a reality.
Two players set records on this night too. Smith tied for most 3-pointers made with 5, and Young had the most assists with 11. In addition, the team had the most 3-pointers (10) ever made in a state championship game in any class. Also, they have the best 3-pointers percentage at .500 (making 10 out of 20). The unselfishness and the pure confidence in their shot was a vital part to the recipe of success for this team. It led to them winning the state championship, which is a win that Giffin will forever remember.
"Oh, it is unbelievable, surreal. Still kind of sinking in and I don't know if it will ever sink in," head coach Chris Giffin said.
If it sinks in or not, every time someone enters the Jack Keefer gymnasium and starts to gaze at the numerous pictures, each representing a state championship team from LN, they will see the "2019-2020 Girls basketball State Champions" team picture on the wall.
"It feels great," Ervin said. "We're going to be in the gym."
It has been a journey for this squad the past two years. From losing to Hamilton Southeastern last year in the state championship game to this hard fought state tournament run. Through all of this, they have finally got the prize that they ultimately wanted, a state championship.
"I don't even know how to put it in words. It is almost crazy because it is like we have been preparing for this all four years, and for us to actually do it our senior year, it is just like, 'Wow, we finally got what we wanted,'" Young said.