Exploring the impact of powerful women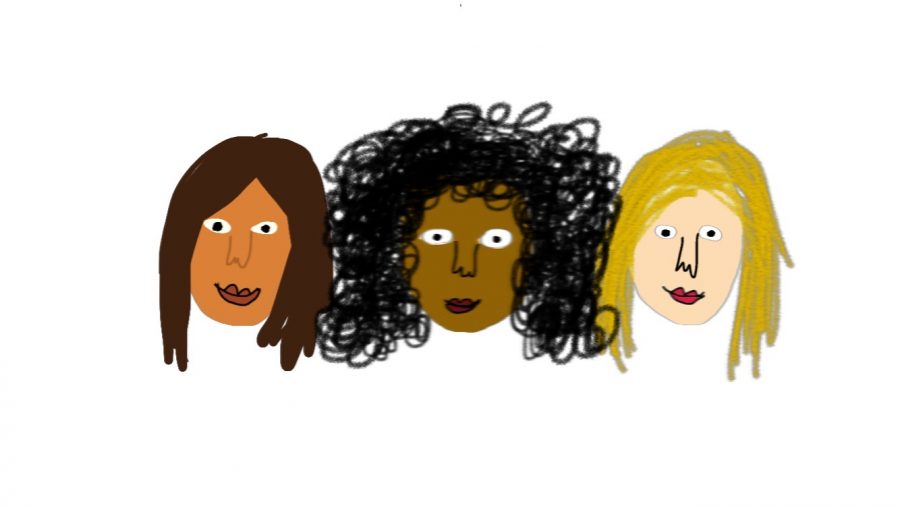 Angela Davis, famous political activist and leader in the Civil Rights Movement. Sylvia Rivera, early activist in the movement for the LGBTQ community. Katie Sower, first ever woman to coach an NFL team during the Super Bowl. These are just a few of the thousands of women around the world who have made history over the years. 
March is officially Women's History Month. Women's History Month was established in 1987 following the establishment of Women's History Week in 1980 by former President Jimmy Carter. It was created to reflect on the contributions of women all across the United States, and the continuous history being made by women everyday. 
English teacher Elizabeth Masur can remember a woman in her own life who has not only impacted her and her family, but those around her as well.
"My mother was a true feminist in the 1960s and 70s. She was a proponent for the Equal Rights Amendment in Virginia in the 70s, and she was a small business owner when many women didn't do that. She was very vocal about how she remembered the times when women could not have a bank account without the permission of their husbands. It was very important to her that her four daughters were not complacent about women's rights," Masur said.
Through the activism of women in history such as Madam C.J. Walker, who was the first self-made woman millionaire of her time, young women such as senior Tyla Campbell are able to make their mark on the world and start their own businesses.
"I am a certified lash tech. I started lashing back in 2018, but because of how much was going on, I stopped lashing for a year. In the beginning of 2020, I decided to take lashing seriously where I invested more money and time into my small business, and I plan on extending my business outside of Indiana," Campbell said. 
The efforts made by women in history are not the only efforts that need to be recognized. Kelly Britton, English teacher and mentor of the girls empowerment club GEMS, sees a need for acknowledging young women. 
 "I definitely think getting the teens involved and allowing them to demonstrate their successes and highlighting those is important. Although it is good to highlight history, we definitely have some really awesome history being made here and awesome teens here that are doing some great things. I think highlighting that in the school would be great," Britton said. 
Senior Jala Durham-Peters, senior leader of Black Student Union and Miss Congeniality in the Circle City Classic Coronation, understands the need for publicizing Women's History Month and recognizing youth more.
"I think we need to publicize it, just like we publicize sporting events, holidays and other months such as Black History Month. Secondly, find ways to celebrate it in schools, especially starting with young girls so they can grow in confidence," Durham-Peters said.
Durham-Peters learned her confidence from family around her and wants to share her same knowledge with other young women around her.
"My aunt, my mom's sister, has made the most impact on my life. She's where I get my mindset and my style from. I plan on helping the young people of the next generation by encouraging them to believe in themselves and their abilities, and teaching them how to properly take care of their mental and emotional health. I hope to change the negative view of mental illness in the  black community. I hope to be able to change how young black children live up to stereotypes and statistics placed on them at birth," Durham-Peters said.
Showing young girls confidence and that they can be leaders too is something that is a work in progress, a message that Masur tries to show her daughters and the young women she comes across. 
"I think that women are not always recognized for all that they do, and I think that sexism is still rampant in the 21st century. I think we all need to be aware that sexism hurts not only women, but men and children," Masur said.
Masur believes that treating everyone as equals not only helps women, but it helps everyone overall.  
"A piece of advice I have given to my own daughters is that oftentimes men apply for positions that they aren't qualified for, but they are so confident that they don't worry if they don't have all the requirements. Women are much more modest, and women need to stop being so modest and be comfortable even if they aren't qualified," Masur said.
Women's modesty and lack of confidence can lead to false stigmas being pinned against women. This is something that Durham-Peters wants to educate more people on.
"I want to change the idea that women cannot lead or that they are weak. Not only is it degrading, but some people honestly believe this and it's this close mindedness that keeps women from moving up in ranks of any business when they're often more capable than the men that are above them," Durham-Peters said.
Campbell hopes that through her business she too can change stigmas about women and empower other females to gain more self-confidence.
"I'm hoping to spread love and confidence to girls through my business. Sometimes girls may feel like a new person with their lashes, and they love how they feel. I hope to encourage one girl at a time to feel confident and know that they are beautiful with or without lashes," Campbell said.
Looking through history is a good reminder of how far women have come. It helps women to recognize and remember all that women are capable of. It also helps to show young females that women are truly that backbone of change.
"Susan B. Anthony who worked for women to get the right to vote is very admirable. She was a Quaker woman who devoted her life to helping women earn the right to vote. It is especially interesting because she was a good friend of Frederick Douglass who was advocating for the enfranchisement of African Americans. Sometimes they argued because they both had the goal of women and African Americans getting the right to vote, but there were conflicts sometimes," Masur said. 
Young women across America flourish through the advocacy of strong women before them. It is now important for our women of today to continue the legacy.
"Everyone deserves representation, especially being a minority, and it's important to acknowledge the accomplishments of women because they've endured so much. That's why it's important to me," Durham-Peters said.