Debating the top sports moments of all time
We all know that due to Covid-19, the NCAA Men's College Basketball tournament was cancelled for the first time in its history. It seems as if the whole sports world has shut down and at 9 p.m. at night we have to watch the International Electrician championships on ESPN instead of March Madness. With this bracket, I hope this gives us a time to reflect on some of the great sports moments, ones that have occured in distant and also recent history, from Michael Jordan's final shot in a Bulls uniform to the Lawrence North girls' basketball first state championship in program history. For this bracket, there is no definite winner or loser, so you make the decision about which out of those 16 moments constitutes the best moment out of all of them. This bracket is designed to bring out the March Madness bracket creating fun in all of us. We advise people to make it a group effort of friends, family, or even both in arguing which moment outshines the rest of them. So, what moment did you choose to be the best sports moment? Share your bracket and top moment with us on Instagram and Twitter using #lntopsportingmoments and taging us @ln_northstar.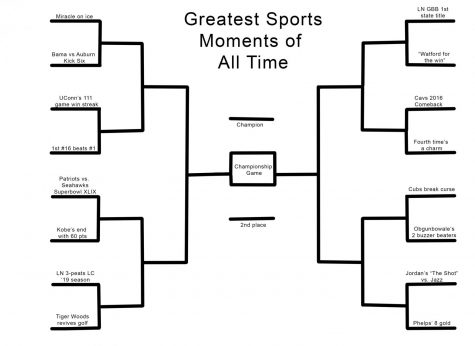 Miracle on ice- U.S. hockey team defeats the U.S.S.R. 4-3 in one of the biggest underdog stories in history .
Bama vs. Auburn Kick Six- Alabama attempts a 57 yard field goal with 0:01 left in the game as the game is tied at 28-28. Alabama misses the field goal and Auburn returns it over 100 yards for the game winning touchdown.
Uconn's 111 game win streak- Uconn women's basketball won 111 straight games and during that stretch they won four consecutive national championships.
1st #16 beats #1- UMBC beats Virginia for the first #16 team to beat a #1 team in March Madness history.
Patriots vs. Seahawks Super Bowl XLIX- Malcolm Butler's interception at the goal line to lead the Patriots to a Super Bowl XLIX win over the Seahawks.
Kobe's ends with 60- Kobe Bryant scores 60 points in his final game of his career.
LN 3-peats LC '19 season- LN boys basketball routs LC three times with not one of the three times being playing on their home court.
Tiger Woods revives golf- Tiger woods wins the 2019 Masters, ends his 11 year major championship drought.
LN GBB 1st state title- LN girls basketball wins their first state championship in program history.
"Watford for the win"- Unranked IU's Christian Watford hits a buzzer beating three-pointer to beat #1 Kentucky.
Cavs 2016 Comeback- 2016 Cavaliers comeback from being down 3-1 to beat the Warriors for the 2016 NBA Championship.
Fourth time's a charm- It's game 7 of the Eastern Conference finals. It is tied at 90-90 with less than four seconds left in the game. Kawhi Leonard receives the inbounds, goes to the corner, shoots a fadeaway three at the buzzer and it bounces four times on the rim and eventually sinks in. Raptors win and advance to the NBA finals.
Cubs break curse- Cubs win 2016 World series after 108 year drought.
Obgunbowale's 2 buzzer beaters- Notre Dame women's basketball player Arike Ogunbowale makes a buzzer beater in the 2018 Final Four game and one more to win the 2018 National Championship game.
Jordan's "The Shot" vs. Jazz- This is one of Michael Jordan's most iconic shots as he hits a mid range jumper in the final seconds of game six of the '98 finals to cap off the six championships won by the '90s Bulls dynasty.
Phelps' 8 gold- Michael Phelps wins eight gold medals at the 2008 Salt Lake City Olympics.