Volleyball looks to mesh talent with transfers in 2017: Season Preview
Keelen Barlow, Managing Editor of Social Media and Advertising
August 11, 2017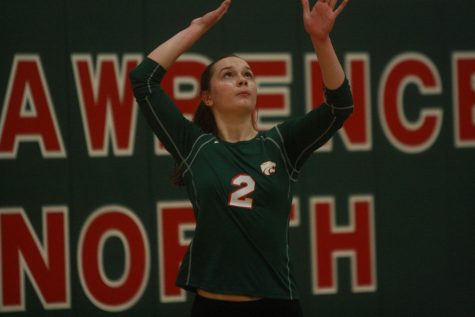 Outside of girl's golf, high school athletics regular season games and matches are set to begin Aug. 14. Before then, North Star will preview each of the Lawrence North fall sports teams. Volleyball is our next highlighted team.
While their 3-0 sectional semi-final loss to eventual state champion Cathedral may still sting, the volleyball team is poised for another successful run in the 2017 campaign. Returning are three senior division I commits and the Wildcats boast the additions of several transfers who look to have big roles in 2017. Senior Lauren Mathews is set to carry the load for the Wildcats after posting a first team all-state selection in her junior year. Matthews, who is the second leading returner in the kills category, has already verbally committed to play at Western Kentucky University.
"They've [Coaching] been wanting me to lead the team since sophomore year, so for me that means just taking initiative this year," Matthews said. "When my team is down I have to help them get back up and keep energy high this year."
Seniors Meg and Liz Beasley, who have verbally committed to the University of Toledo, are joined by the additions of senior transfers Mya Whaley and  Shakana Norfleet for the Wildcats. Freshman Ashleigh White will also be an impact starter in just her first year of high school experience.   
Meshing talent with transfers though is a priority for Head Coach Nick Cox in the early goings of the season.
"We practiced together and played in summer matches, but there's not a substitute for playing real competition and the teams that we play." Cox said. "The first few weeks we are just going to have to get them together and play."
The Wildcats will need to gel rather quickly as another grueling schedule awaits them. Yorktown, 2016 3A state champions, Hamilton Southeastern, Providence, Floyd Central and Avon are all set to matchup with the Wildcats in just the progression of the first two weeks. The rest of the year features a schedule stock loaded of names among the likes of Carmel, Center Grove, Cathedral and Mt. Vernon.
"We are just going to have to learn on the fly and play good competition because one good thing is that we did that purposefully The first two weeks we will find out what we need to work on because we can't hide against the competition we've got so.
From a player's perspective, Matthews welcomes the tough competition during the season.  
"I really like the tough competition because it reminds me of club season," Matthews said "Against easier competition it can be kind of boring and slow paced but playing that level of competition makes it more fun."
Key Returning Players: Senior Liz Beasley, Senior Megan Beasley, Senior Lauren Matthews
Important Games: Avon at Lawrence North (August 19), Lawrence North at Cathedral (September 7), Carmel at Lawrence North (September 12), Lawrence North at Center Grove (September 19)
Last Year State Tournament Result: Lost in Sectional Semi Final (Cathedral defeat Lawrence North 3-0)