North Star Time Capsule: 1991 football team opens season with talent; aim for state
Keelen Barlow, Managing Editor of Social Media and Advertising
August 18, 2017
North Star takes a look through the archives in the weekly edition of the North Star Time Capsule. This week we take a look back at a North Star story, which previews the 1991 LN football teams quest for a state championship.
Tuesday August 27, 1991
This could be the year for the Wildcat football team to go all the way. The players and coaches are very confident. Senior Larry Brown said "We have a lot of good potential. we should win a regional and state title,"
The team has much returning talent that it lacked last year. "This year's team has a lot of experience at different positions. Some of the experience is already showing up in practice," said Coach Doug Reeser.
Senior quarterback Kevin Lyles will lead the offense with his quickness and strong arm. He brought his 40m time down to 4.8 seconds over the summer. Last season Lyles threw for over 1,000 yards with a 53 percent completion rate. On the other end of Lyles passing are two veteran receivers, Senior Rob Baughman and Junior Kevin Richardson.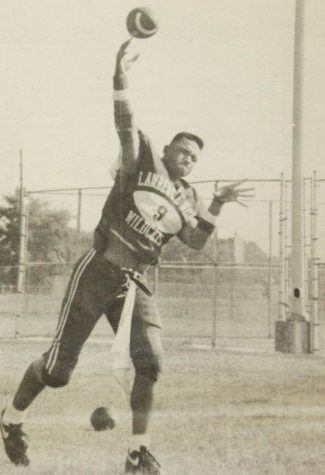 1991 Lawrence North senior quarterback Kevin Lyles  (Photo by Liz Thomson)
Lyles however, cannot do it all by himself. Brown and Juniors Brian Vance and Steve Lee will lead the groudn attack for the Wildcats. Protecting the offensive backfield will be some of Ln's biggest linemen ever. leading the line in size will be six foot- seven inch, 327 pound junior Eric Chandler. His teammates will include six foot, 238 pound senior Nick Hampton and a 5 foot-11 inch 243 pound junior Mike Eikenberry  and six foot-two inch 227 pound junior John Mullins.
On the other side of the ball, LN should have some exceptional defense. Heading up the defense will be two returning letter men, linebackers senior Sean Vincent and Lee. Other key defensive players include Baughman, Brown, Vance, Jones; Seniors Isaac Gadioo and Ed Zimny; and Juniors Jeremy Bean and Sean Usher. Lyles said, "I feel we have a lot of key people. we should be effective offensively and defensively."
The theme for this year's team is 'One in '91" According to Reeser, it has several meanings. "The most important thing is that we take it one game at a time."
"One in '91" also signifies the team's desire to be number one in its conference , number one in sectionasl, regionals, semi-state and in the end, state champions.
Early reports suggest that the Cats will do better than the teams of past years. Head trainer Pete Just said, "This year's team was real well conditioned. A lot of times, guys come in and are not ready. We've seen very few conditioning injuries during the pre-season."
"We are more disciplined than last year. I feel we're cpoming together asa team," said Lee.
Reeser wants all of the students to come out and cheer the Cats on to victory. Reeser was also quick to point out that the band will perform at each home game and fireworks will be released. Aside from these activities, the LN Booster Club is planning a tailgate party before this Friday's game. The Wildcats will host Franklin Central for the homecoming game on September 20.