Students protest presidential action on DACA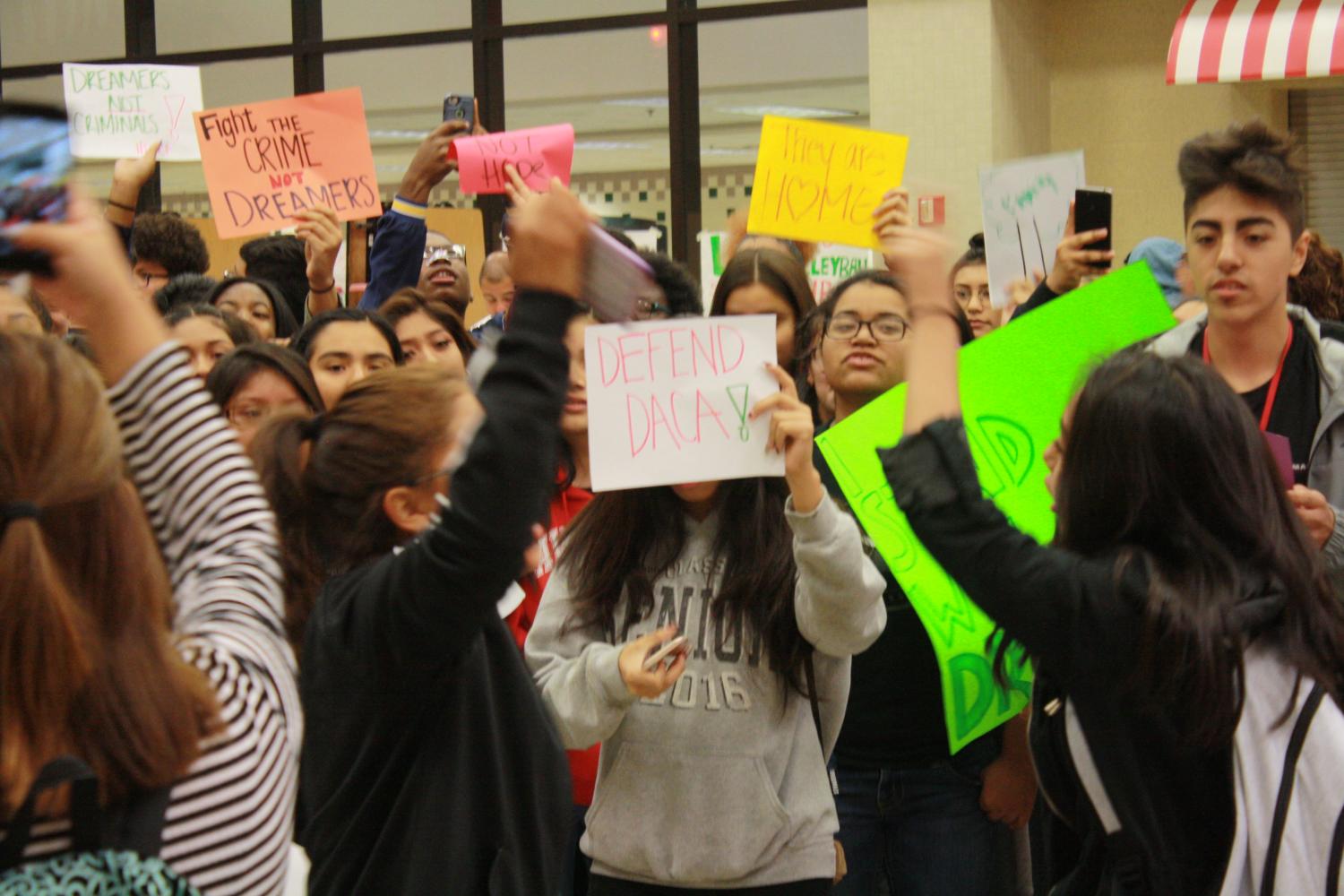 When President Donald Trump announced the end of Deferred Action for Childhood Arrivals, also known as DACA, yesterday, the announcement caused heartbreak to many communities and people, including senior Litzi Endesca.
"After the announcement, my friends and I were all in shock. I cried myself to sleep last night since I lost everything that I had that I built for myself. However, we decided that we needed to be heard," Endesca said.
An executive order signed by then-President Barack Obama in June 2012, DACA was intended to give protection to undocumented immigrants who arrived to the U.S. when they were underage. However, President Trump has given Congress six months to change it or else he plans on repealing the order.
After she heard the news, it didn't take long for Endesca to take action. She quickly organized a protest, planned before R5 on Sept. 6.  The intent of it was to take a knee during the Pledge of Allegiance to show support for those being impacted by the decision.
She was joined in the Commons this morning by other students who carried signs and chanted slogans. At the bell, they kneeled and then dispersed to class.
When it was decided to do an additional protest between R5 and R6, Endesca decided to take a back seat. The protest ended when the passing period was over, but it was not without controversy. During this second protest, there were posters showing solidarity of those being impacted by DACA and chants. However, these chants became more vulgar as it went on.
One student at both protests was senior Jennifer Salazar Hernandez, who is friends with Endesca and was involved with organizing the original protest.
"A lot of families are going to be affected by what happened, and Litzi and everyone else wanted everyone to know that not only will people in this school be impacted, but kids who have had DACA who won't be able to work or apply for in-state tuition will also be affected," Salazar Hernandez said.
An additional gathering is scheduled at Lawrence Park tonight, Sept. 6, at 6 p.m. Tomorrow and Friday morning students plan to meet again in the Commons before first block, wearing white on Thursday and black on Friday, to show support for those affected by the move to end DACA.