The Value of AP exams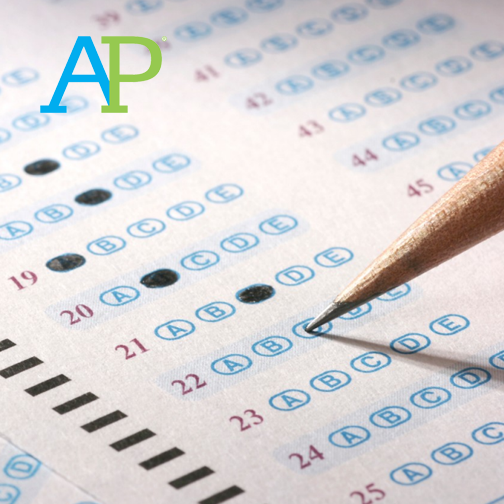 The clock is counting down. Students are finishing up their final section of the AP exam. Their hands are cramping from writing. They have been taking the exam for the last four hours with only small breaks between sections. The timer dings signaling the end of the exam. Relief spreads across the students' faces as they realize they are finished.
Every May, hundreds of seniors across the country experience the benefits and drawbacks that come with AP testing. Senior Conrad Testin has taken four AP exams throughout his high school career and is currently enrolled in three AP courses. He has grown accustomed to the routine of taking these exams.
"They are long and kind of boring, but when you get done you feel pretty satisfied that you just took a four hour test," Testin said.
LN offers 25 AP courses to students of all grade levels. Each course teaches students material that is all assessed at the end of the year on the AP exam.
The class and workload
AP classes are college level courses. According to the admissions department at University of Michigan-Flint who advice students on what to expect in college, for every credit hour of a course, you will have two to three hours a week of homework and studying outside of school. AP classes average about three credit hours each, which means that students have an average of six to nine hours of work outside of school. Senior Sarah Strebing is taking three AP classes this year and agrees that she has a heavier workload in her AP courses than in her regular high school courses.
"I'd say it's more [homework] than my other classes, but we also usually have longer to do it. It's usually a full assignment that takes longer than one night, so I don't have to get it all done in one night. I can just work on what I need to right away," Strebing said.
Many students are taking five to six AP courses in one school year. This can be overwhelming for students who have responsibilities outside of school or are involved in after-school activities. Taking on five to six AP courses at once is more than what is expected from the average college student. Principal Brett Crousore believes that the excessive amount of classes can cause stress and can overwhelm students.
"A note for parents is balance. Let's not burn our kids out before they go to college. I think a perfect balance is three to four AP courses. A full college load is four classes. And yet what we do here is we have you take four classes and then we through three other classes that you also have to do that may be AP, may not be AP, and you're sitting in school for seven and a half hours when in college you're in class for maybe three hours a day. The rest of the time you have time to study and get things ready for the next class. I think sometimes our parents need to understand that balance," Crousore said.
AP World History and U.S. History teacher Rachel Couch works with College Board to develop and grade the exams. Through her involvement, she has been able to observe and create new methods of teaching that she is able to use in her own classroom.
"The biggest thing is because you're scoring thousands of them and you realize that people, whether it's private schools [or] public schools, across the country are making a lot of the same common mistakes, so I kind of develop my own 'don't do this list' of things that I see and things that are effective," Couch said.
The level of precision in AP courses prepares students for what they will experience in college. According to research done by College Board, the producers of the AP exam, students who score a 3 or higher on the AP exam have greater academic success in college and have higher graduation rates than their non-AP peers.  
"They have made a strong correlation between students that have success in college and students that have been preparing through AP classes. The level of rigor, the level of writing and reading, you're using a college textbook already, so I think that you have a stronger success rate in terms of students their first year especially," Couch said.
The Exam
Many students wait until the last minute to prepare for their AP exams, but Strebing has found that it is more beneficial to prepare for the exams weeks in advance so she does not have to worry about understanding the material last minute.
"I just try to make sure I know the material before we get to exam time, so that I don't have to crunch that week, and I can just sleep and make sure I'm rested so that I won't fall asleep during the exam," Strebing said.
Review sessions for the AP exam are offered in the weeks leading up to the exam. These sessions benefit students by allowing them to understand material ahead of time and not have to crunch the week before.
"Any student who is taking AP exams this year needs to be on the lookout for the upcoming study sessions. Those will be posted at the beginning of April. You need to be making sure that if you have questions in advance, you are getting those answered through myself or Mr. Floyd," AP test coordinator Jenn Sahagun said.
Sahagun believes that there are many benefits beyond the possibility of receiving college credit. She encourages students in AP classes to take the exam.
"Students should take AP tests also because its an opportunity to experience what final exams will be like in college, beyond just getting college credit. A lot of the AP classes here at Lawrence North are counting the AP test as the final exam, so that's another added bonus if you take the AP exam. You don't have to come back to take the final exam," Sahagun said.
Although Strebing does not agree with the process, she thinks that the courses and exams do prepare for later on in life and that taking AP courses is worth it.
"I think the class is worth it and everything. I don't agree with teaching to tests, like teaching specifically to prepare people for a test rather than so that they know the subject, but overall I think it prepares you for some of the stuff that you're going to get later on," Strebing said.
Evaluating the costs
AP exams cost $94 each, plus a one time $15 registration fee. In Indiana, the state pays for the English, Math, and Science exams, so students just have to pay the $15 registration fee. While this may seem like a lot, there are high costs involved with the development and grading of exams.
"A lot of that money goes to paying for people to grade it and to develop. We have a development committee that meets a couple times a year, so the test that the students are looking at right now this year would have been developed three years ago, and so you will have revisions and people revise it. When you're at the AP read, for example last year for AP World History, there were 1,200 people grading, and you have to put them up in hotel rooms, and they have to pay for transportation costs to get them there," Couch said.
Taking AP courses allows for students to gain college credit. This contributes to lower tuition costs in college.
"AP tests are an opportunity to get college credit at the fraction of the cost. Most AP tests would be about a three credit college class, which can range anywhere from $3,000 to $5,000 in college and students have the opportunity to take them here for a reduced cost," Sahagun said.
Testin, like many others, would like if the exams did not cost as much. However, he sees the benefit in getting the credit now as opposed to when he goes to college.
"It would be nice if it was less, but [it is worth it] especially if you get college credit for it because then you don't have to pay for classes when you get to college," Testin said.
59 percent of LN students receive free or reduced lunch meaning they could not afford to pay for their own lunch, so the state pays for it for them. For these students, affording the AP exams can be difficult.  According to a College Board spokeswoman, they try to keep exam fees to a minimum by contributing over $30 million of their own funding to reduce the fees of AP exams. Lawrence Township also has programs available for students who can't cover the costs of taking the exam.
"We also have support groups here in Lawrence Township that help offset costs for students who may need that. I'm working with individual students through those, but I'm also realistic that when a student comes to me and says they can't do it, I want to find a way if they really want to do it," Crousore said.
AP exams offer many benefits for students. Couch believes that students will benefit greatly just from taking AP courses.
"LN has got such a great program where you can graduate from LN and enter your sophomore year in college and that's a pretty good feeling of confidence," Couch said.