The new sports protocols in the wake of COVID-19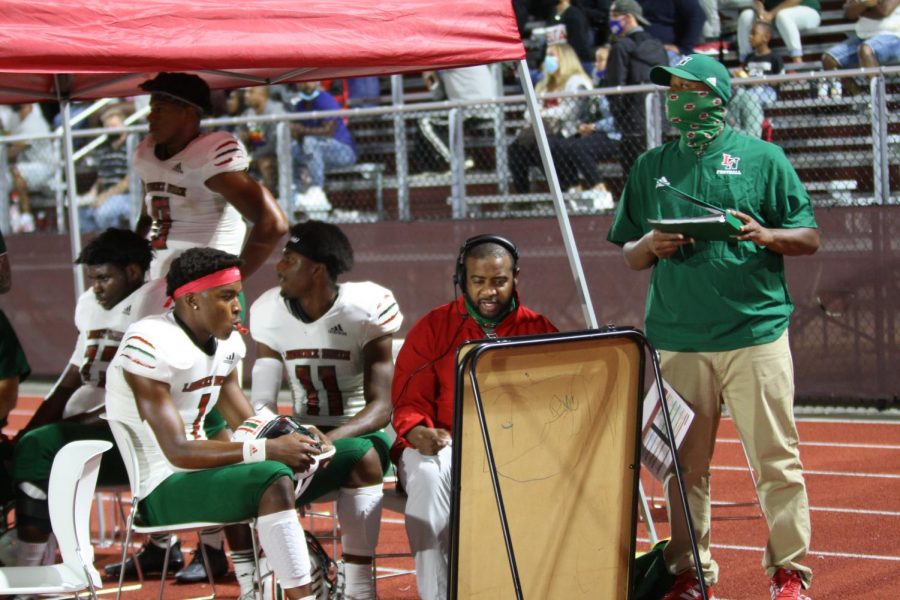 Tuesday, July 28, 2020, a day that was to make or break whether or not close contact sports would happen in the fall for Marion County due to fear of the COVID-19 pandemic. The air was tense and there were some people who were beginning to think that fall sports wouldn't happen. In surrounding counties, fall sports were put on hold for a couple weeks after an HSE player tested positive for COVID-19  and multiple New Palestine players tested positive.
 When it was time for the Marion County Health Department Director Dr. Virginia Caine to speak on the subject, some started to scoot forward in their chairs and lean in into what Dr. Caine had to say.
"There was a lot of uncertainty, waiting, and telling families 'I'm sorry I don't know' at that time. From what the IHSAA would be doing, with what the state and local government would be doing, and a lot of it came out late so we were in a position where we couldn't really do much," Athletic Director Mike Penrose said.
Dr. Caine eventually spoke and delayed her decision on the future of fall sports for the 2020 season until two weeks later in order to gather more data and now here we are: four weeks into the football season, volleyball has already had their senior night, and the boys soccer team is over half-way through their season. Fall athletes are excited that they get to play this season, although; there are strict conditions that players must uphold in order to play during this COVID-19 season.
"Every team and all the coaches are expected to ask every single athlete, coming to practice, pre-screening questions regarding their health. Anybody answers no to those questions are immediately sent home. Also, every coach has hand sanitizer available for all the athletes," Penrose said.
These protocols are just some of the many things that athletes and coaches must abide by. This isn't just for the obvious contact sport of football, but for non-socially distant sports like volleyball and soccer. These protocols are affecting players before, throughout, and after practice.
"Before practice starts, all of us use hand sanitizer, the coaches sanitize all the balls, and then we get to take our masks off. During practice we have to spread out as much as possible when it comes to team huddles. Then right after practice, the coaches sanitize the balls and we sanitize our hands yet again," senior volleyball player Hailey Petersen said.
COVID-19 has drastically changed the dynamic of practice. There involves not only effort in practicing, but effort to follow all the protocols presented to them by the IHSAA. For football defensive coordinator John Sala, the introduction of them to his players was not easy at first.
"The first meeting with the team was unsettling and confusing to many, but the players were very thankful to be able to practice and see each other again. They understand the possible future implications of the season, but more importantly, to everyone's health," Sala said.
It has definitely been a transition into these different times, yet it does seem that these players are taking the protocols to heart as there hasn't been a single positive test for the football team so far. Despite this, the protocols aren't always fun to try to keep up with, especially in a tight-knit place such as a football locker room.
"Some of the COVID-19 protocols that affect me as a player include keeping my distance in the locker room and spraying down my practice gear after every practice, it's a true hassle," senior wide receiver Logan Gant said.
These protocols might come as a hassle, but it truly is in the name of safety because without these protocols in place, there wouldn't be a football season. Sala credits the ability for his players to take the field each and every Friday night to the faculty at LN.
"At LN, the protocols are doing a terrific job. Our administration, head coach, and assistant coaches have been relentless in enforcing these protocols. In addition, I feel we have set good examples by adhering to them ourselves. It is because of this, I believe the health protocols are successful in our program," Sala said.
Without the relentless coaches and administrators to enforce the COVID-19 protocols, fans wouldn't be able to see the hard work out of school translate to the court and field season. For Gant and his teammates, they want to be able to capitalize on the ability to have a 2020 season, COVID-19 or no COVID-19.
"I continue to play football even with the risk of getting COVID-19 because I still have a lot I want to accomplish, like winning state with my team and hopefully getting a scholarship," Gant said.
This season and this year of 2020 has definitely been one for the history books. Not only do players and coaches have to adhere COVID-19 rules, but so do fans. For once, after football games fans aren't allowed to go onto the field after the game to relish the team's latest win or hear an end of the game speech by Head Coach Pat Mallory. Despite this, the fans are still going to keep on cheering the Wildcats and everyone is trying to play their part to keep everybody in the LN community safe. 
"Spirit leading is definitely different this year. We have to try to keep our distance in the student section. It's still a great experience and I'm going to make the best out of it while doing everything I can to stay safe, along with everyone else," senior Taylor Burket said.
Along with fans keeping their distance, there are a variety of other rules implemented this fall season. Fans must wear masks and of course try to keep 6 feet away from each other. This now means that seating capacity is cut to a fourth of what the maximum capacity was this time last year. These rules may seem overwhelming, but it's all in the name of safety.
"Nothing in this world is guaranteed. We can only do as much as we possibly can, to not eliminate, but rather try to keep everyone as safe as we possibly can," Penrose said.