Representation through art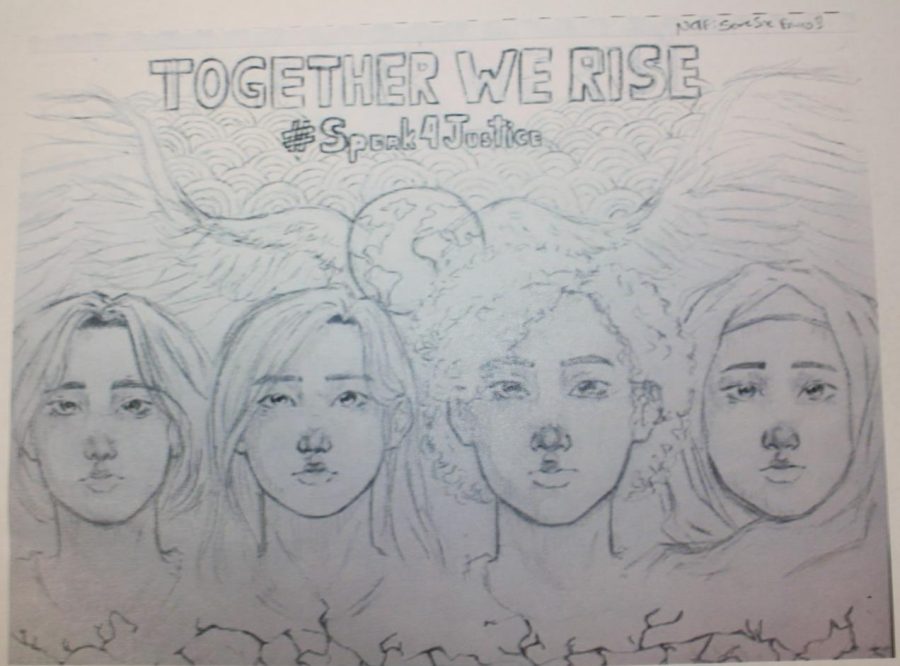 Social justice has been one of the most burning topics of 2020. To contribute to this, Art Teacher Nicole Cooper and her students are in the process of creating a social justice mural in the art hallway. They are making individual art pieces that will come together to make one piece and to spread a message. 
"So the theme is social justice." Cooper said, "I had the students submit their ideas, whatever that meant to them, because there are different interpretations of that. The message of the one that was chosen is; 'We rise together'. The idea behind it is to show a diverse group of people at the bottom of the mural, and we're still working on what types of people we want to show, what cultures, what genders even. It also says '#SpeakForJustice'."
Junior Sabrina Ola is leading the project, as she won the design contest between Cooper's painting classes. She believes it is important for people to know, especially in times like these, that they have a voice. 
"What inspired me most is the Black Lives Matter movement. I think it's very influential and something that was very needed. I think that it's a very beautiful thing that people are standing up and protesting and bringing awareness to the issue," Ola said.
Ola put emphasis on this in her design by representing different groups of people. This includes their different issues and problems.
 "It's very important for me as an Asian American for everyone, especially the POC (people of color) community, to know to not be scared to speak for what's right," Ola said.
The idea to create this mural came about before school was even in session. The person who came up with the idea was none other than Principal Crousore.
"He looks over at that wall, and it's an ugly wall,"  Cooper said, referring to a wall newly built for the renovations. "And he says, 'You should paint something on that, and it should be something about social justice.' I was kind of wondering what to do with my painting classes anyways as kind of a starting off point because things looked different this year in many ways. So I just thought, well, this would be a good project for my painters. Even if they don't paint, they could still be in the process of coming up and proposing a design."
From behind  a screen, it can be hard to infer how students feel about an assignment. Cooper believes that students seem to be willing and excited to participate in the mural. 
"I could sense that everyone was kind of into it and wanted to participate and had a lot of ideas for it," Cooper said. "I could tell that they were excited and passionate about it, just from their brainstorming activities and their sketches and plans." 
Cooper believes that  students and young people have a responsibility to speak out against injustices. As we grow older, more responsibilities fall onto our shoulders.
"I think as young people, you guys are leading the next generation. I think it's important not only for you to not only speak out about these things but to also find your voice on these matters, too, " Cooper said.
Cooper also believes it is an artist's job to portray these things through their artwork, and to communicate ideas and express things that the average person wouldn't. She believes that with this assignment, students will have the opportunity to do just that. 
"We have a lot of power in image, and we have power to get people to see things that they normally wouldn't see. I always tell my students that. It's our job to get people to see things in a different way. I think artists feel like they have a job to connect with people through their art ,and help them open their eyes to something that they're not noticing or looking at," Cooper said.
It has generally been taboo to discuss politics within the school environment. Cooper, however, does not believe that is the case when it comes to social justice.
"It's something that we talked a lot about this summer with teachers and admin, about how we can approach this start to the school year with all of these things going on. You can't just not talk about the elephant in the room. It's almost an easy way as an artist to put those things out, and I think that if it's in the school and people see it, they'll know what we stand for, and what we support and don't support," Cooper said.
Murals are time consuming and challenging to create. However for Cooper, what is driving her and the students is the message.
"I think in the past, murals can be an art teacher's worst nightmare, just because it's hard to get people motivated to do them. I think the message is really driving us all to create it, because it's going to be a big job," Cooper said.
Ola's vision for this mural is for people to take something away from it. Her hope is that the school responds well.
"I want people to be inspired to speak for themselves and for the people around them, because I know a lot of people are scared to do something like that. To make a change, you don't have to do something big, it can be something small, like artwork."
Cooper and her students are excited to spread their message.  They're looking forward to working on their mural, and hopefully to encourage others to follow suit, to share their values and stand behind them.
"I think it's just that mentality that if you don't say anything and you're quiet, that you're kind of a part of the problem. I think that if more people would speak out and talk about these things, it wouldn't be such a difficult thing to talk about, and maybe we could get somewhere," Cooper said.