Bonds Strengthened
COVID-19 canceled the girls soccer team's summer workouts and part of their season, yet they continued to play at a high level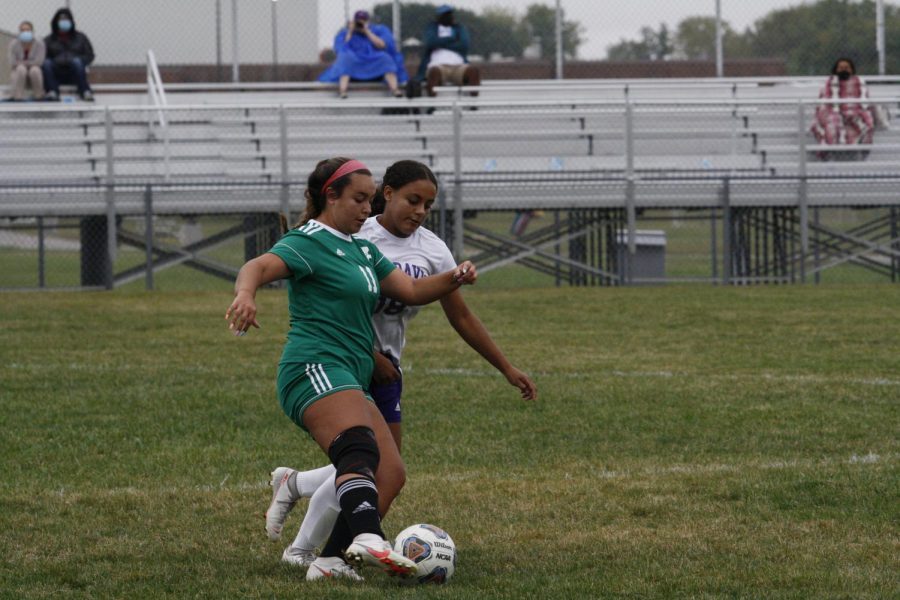 The girls soccer team stepped onto the field against Carmel. This was their first game back from the two-week quarantine. As senior captain Lauren Koehl trotted out onto the field, thoughts leading up to the game flooded her mind.
"Our first game back was shading Carmel, so everyone was already on edge because of that. I was nervous because we played really well before quarantine, and I didn't want quarantine to ruin that," Koehl said.
A first game back from anytime taken off for a team can be weird for a team. They might play really well or sometimes even the opposite. For that first game back against Carmel, it was an eye opener for what they would have to do to get back to winning consistently.
"Our first game back was a little rough. It was a good wakeup call for us," junior Emma Cox, another captain said. "We weren't sure what to expect going into it, and we lost pretty badly. After that game we realized we needed to adjust quickly and get our focus back towards the games."
The first game against Carmel came off of a two week quarantine because a player tested positive for COVID-19. Not seeing friends for two weeks is bad enough, but for sophomore Emma Sheehan, those friends are her friends and it was a tough two weeks for her.
"It was crazy not being able to see my teammates for such a long time in the middle of the season. I remember the first game back was very exciting and it was so much fun getting back to the way things were," Sheehan said.
While there were a lot of different emotions swirling around, there was some doubt at first about how to keep in shape for soccer season and being able to bond virtually. This was ultimately settled by captains taking charge and a popular communication app that many have used throughout this pandemic, zoom.
"We had three or four team Zoom calls. I kind of left it on the girls to keep themselves in shape during the two weeks," head coach Mitch Holden said.
Holden believes that his team started off slower at the beginning of their restarted season. Although the season continued, his players got used to playing with each other again and the improvement was visible on the field.
"We just had trouble getting into the games." Holden said. "So, we started slow. The big focus has been getting the energy high at the start and coming out strong from the beginning."
Though the post-quarantine game against Carmel resulted in a loss, it was a turning point that would help shape the rest of the season. It not only gave them their first opportunity to play again, but also to show the emotion coming into the game.
"We ended up playing one of our best games even though we lost. " says Koehl. "I think we were ready to get back on the field to play. We wanted to prove that the shut down didn't break us."
Fast forward to the end of their season. They won the first sectional game on October fifth against Warren 1-0. Then on October eighth, they won 5-1 against Perry Meridian to advance to the sectional championship.Despite the obstacles they have faced during this COVID-19 season, Holden believed that there was still a chance that they could win sectionals for the fourth year in a row.
"This team is the same team that won it last year, we didn't lose anybody. "We have a great path to the final. The motivation is there, the drive is there, they want it. So it's just going out and putting the product on the field to win it," Holden said.
Unfortunately, on October 10, they lost the sectional championship 0-2. Though spirits were low, the girls were still feeling content with their overall season, performance, and come back from the halt in their season.
"The end didn't go as planned," Koehl said. "But, I think that with all of the obstacles we had, we were able to overcome every single one."