Junior remembered for his joyful personality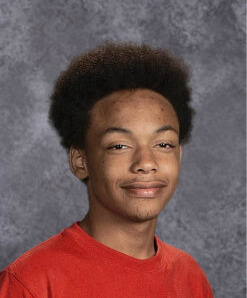 On Tuesday, Feb. 9, students and staff received the news of the passing of junior Josiah Carson.
"We are saddened by the loss of Josiah. His family is in our thoughts and prayers," Principal Brett Crousore said.
Carson was involved in Percussion at LN. Percussion director Alexander Entin had a special bond with Carson as they both started at LN the same year.
"He came in as a freshman my first year here at the school. I felt like it was cool his first year at the school was my first year at the school, and we kind of went together like that," Entin said.
Entin got to know Carson through spending time with him before class each morning.
"My experience with Josiah was he came into my office every morning before his class. I only saw him on red days, but anytime he was in class he would come into my office. He wanted to hang out. He wanted to talk and chat and see how I was and if he had something to say he would talk to me about it," Entin said.
Entin remembers Carson's positive spirit and the moments they spent together.
"He was a really joyful kid. Just like anybody else, anybody who's going to have their down moments and he did for sure, but I would say there were few, more few down moments than joyful up moments," Entin said.
Carson's friends also remember him for his joyful personality.
"His personality, oh boy, he was one of a kind. He was always uplifting. When you saw him down, he always had something in him to push himself up and over those challenges," senior Kelsi Zell said.
Sophomore Cashus Robinson remembers Carson as a funny and supportive friend.
"He was pretty chill for the most part. Funny. I could definitely tell he had the experience to help you through some things," Robinson said.
Entin also remembers Carson by the fun he would bring to the classroom.
"He was funny. He was really funny. Cracking jokes, but also knowing how to be serious. When it was time to work, he would do it too. He knew how to balance that line between work and being funny and having fun," Entin said.
Zell appreciated the support and care that Carson would show for his friends through difficult times.
"He was actually the most caring person I've ever met, someone who told me what was wrong and right at times. Someone who was there when I needed shoulders to cry on. I know I will never ever forget someone who did so many amazing things for me on countless number of nights," Zell said.
Carson loved being involved in the school and developed a love for music through his involvement in percussion.
"He was really friendly and wanted to be around and wanted to be involved. He really liked music. You could tell he loved music and wanted to be a part of the band, but his love for music was something that showed through and was really important to him, I could tell," Entin said.
Zell hopes that people will hold onto the positive memories of Carson.
"I hope he is remembered by his caring and funny personality," Zell said.
Entin enjoyed all the time he was able to spend hanging out with Carson over the past three years.
"I loved seeing him for that amount of time. A lot of time, it was just fun hanging out. I'm going to miss that a lot," Entin said.